An offline dictionary you can use on the move, anywhere you like!

makimono
Category: Dictionary-Kanji_dictionary
Level: Intermediate Advanced
Recommended points
---
Install once and you can use it offline.
It's convenient since you can look things up anytime, even when your internet connection is not good, or unavailable.
The search language is English, but results are displayed in a multilingual dictionary format (English, German, French, Spanish, Portuguese, Russian).
There are lots of example sentences.
---
What can you do?
---
You can view animations showing the stroke order for kanji.
You can do a kanji search, radical search or example sentence search.
---
How to...
---
This is the menu. The '辞書検索' (Dictionary search) feature lets you search for words using the dictionary. You can use an English-Japanese or Japanese-English dictionary.
Choose either '漢字検索' (Kanji search) or '漢字の部首' (Kanji radicals) when looking up kanji characters.
The '例えば' feature is for looking up examnple sentences. When you input a word you can see lots of example sentences and see how to use the word in context. It's a good idea to select the language you want in the settings before you start.
---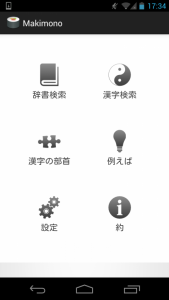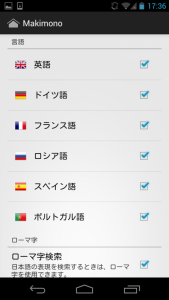 ---
We tried using the '辞書検索' (Dictionary search) to look up the word '山'.
---
---
Here is the displayed detail screen.
---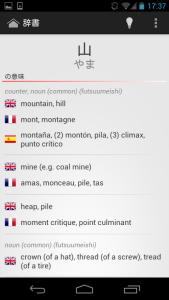 ---
Let's take a look at the detailed results for a '漢字検索' (Kanji search) for the same word, '山'.
There is an animation showing how to write the kanji, plus the Japanese on and kun readings, Chinese and Korean readings for the character.
---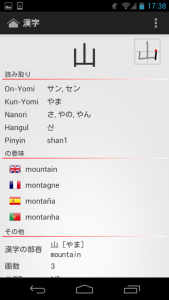 ---
This is the radical search.
---
---
We tried looking for example sentences for '山', using the '例えば' feature.
We were provided with lots of examples.
---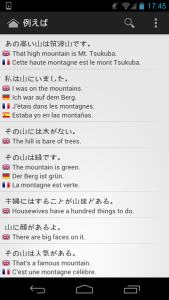 More information about this app.
App. name

makimono

Languages

English

Category

Books & Reference

Developer

Remo Arpagaus @ Electronic Dictionary Research and Development Group、

Price

Free

Size

43M

Version

0.3

Requires

2.1 or later

makimono
Free(2013.04.10)