Let's study Japanese with a blog!

Tae Kim's guide to Learning Japanese
Category: Grammar
Level: Beginner Intermediate Advanced
What can you do?
---
There are detailed explanations about grammar.
Learners of all levels, beginners to advanced, can enjoy the content.
You can read explanations on the key points of Japanese grammar and check your understanding through example sentences and practice tasks.
You can also study words.
---
How to...
---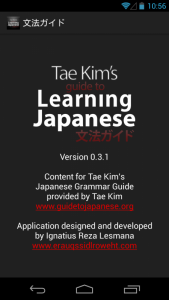 ---
These are the contents.
A range of topics are covered, from notation and basic grammar to those aimed at more advanced learners.

•The Japanese Writing System (Hiragana, Katakana, Kanji)
•Basic(Japanese)Grammar (Particles, Gobi, Tense, etc.)
•Essential(Japanese)Grammar (Polite Forms, Conditionals, etc.)
•Special Expressions (Causative, Amounts, Honorific, etc.)
•Advanced Topics (Formal Expressions, Advanced Volitional, etc.)
---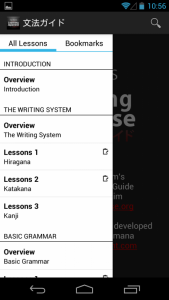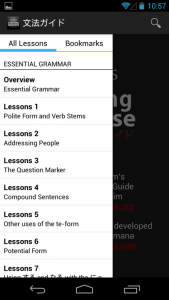 ---
Let's take a look at the 'Giving and Receiving' lesson.
---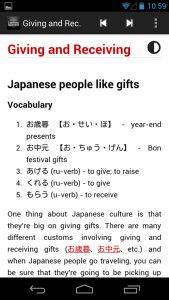 ---
The blog covers not only grammar but also culture, and plenty of example sentences are introduced.
---
---
Tap on a red word found in the main text and its meaning will be shown.
---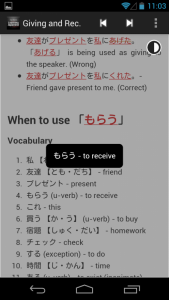 ---
This app was introduced to us by a user.
More information about this app.
App. name

Tae Kim's guide to Learning Japanese

Languages

English

Category

Education

Developer

Ignatius Reza

Price

Free

Size

11M

Version

0.3.1.3

Requires

2.3 or later

Tae Kim's guide to Learning Japanese
Free(2014.11.14)