Listen and learn/read and learn about Japan: Nippon VoiceBlog
On the Nippon VoiceBlog website, you'll find 10 blog entries, all in the form of a 'voice-blog' (i.e. with spoken audio). Of course, you can make good use of these as learning materials to help with your listening comprehension, but how about using them as something to help your reading as well, with the special benefit of having audio attached.
---
---
★For these kinds of people...

・advanced learners
・those who aren't so confident in their kanji readings
・those who want to read more, but who prefer reading material other than newspapers
・those who want to read material on the internet
・those who want to listen to audio
・those who want to increase their vocabulary
---
Why not use this site combined with an online tool to help you read the articles? This way, even if you come across a kanji you don't know at all, you can look it up in the dictionary as you go, taking the pain out of reading practice!

Do you know about the site Hiragana Megane (Introduction article)?
Using this site you can add furigana to an article you want to read.

For example, if you take a look at the voice-blog article entitled "Business card", you'll see it looks quite difficult as there are lots of kanji.
---

---
Write (or copy and paste) the URL address of this "Business card" article from Nippon Voice Blog in the box provided on Hiragana Megane.
---

---
Having done this, you'll be able to read the article with furigana attached to all the kanji, as if by magic!

---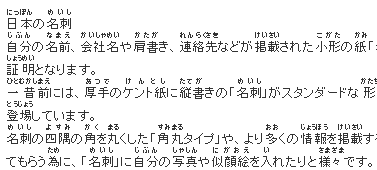 ---
If it's not just the readings of unknown words you're after, but also the meanings, then try using the online tool POPjisyo as you go through an article and all your problems are solved!
You can even create a vocabulary list of all the words you look up.
---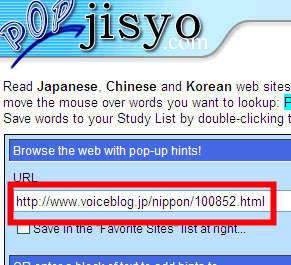 ---
Type (or copy and paste) the URL address of the site you wish to read into the box provided on POPjisyo.

Pass the mouse over any kanji words you don't understand and, like this, the meanings and readings will appear as a pop-up.
Finally, you can make a vocabulary list for your own reference, so it's very convenient. (This site's introduction article can be found here).
---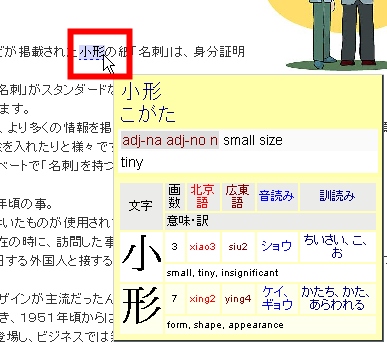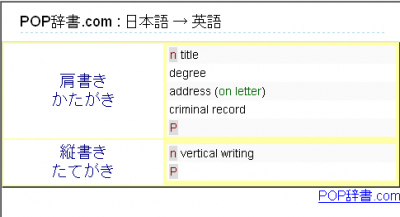 ---
You can either check the readings and meanings of words like this to understand the contents, THEN listen to the audio as a practice to reconfirm your answers, or you can listen to the audio first in order to try writing the kanji readings out as you hear them, THEN get the correct readings with a Ruby furigana generator and check these again with more listening practice.

So, in short, by combining various different sites, you can practise both your listening and reading comprehension!
Why not have a go right now?
---
Sites introduced here
---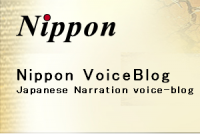 Nippon VoiceBlog
Nippon VoiceBlog: Introduction article
---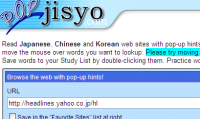 POPjisyo
POPjisyo: Introduction article

---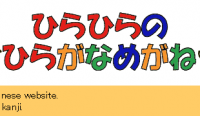 Hiragana Megane
Hiragana Megane:Introduction article
Last update 2010.04.20
Search