オノマトペッツ
http://www.voiceblog.jp/onomatopets/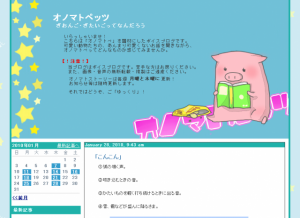 An audio blog that explains various onomatopoeia through short stories.

The site introduces onomatopoeia in short audio blog posts around 1-2 minutes in length.
The definition of the the featured onomatopoeia is written along with the short story.
Recommended for upper level to super-advanced level students.
---
---
This site is also introduced as part of an "e! Kore" article called "Niko niko"or "Niya niya"??. If you're interested, please be sure to stop by and have a look!
Last update 2010.11.04
Search