uPal
http://sp.cis.iwate-u.ac.jp/icampus/u/indexj.html
An internet portal site to support learners of Japanese. There are translation and dictionary functions, and users can practise kanji, hiragana and katakana through audio and quizzes.
Use the mouse to write kanji by hand and you can find out their readings and meanings.
You can take hiragana, katakana and kanji quizzes. If you want your scores to be remembered, you need to register on the site.
In the "podcast" menu found at the top of the screen you can watch an animation showing how the kanji came about.
---
How to...
---
Here's how to find out the reading and meaning of kanji you don't understand in something you're reading.
Copy and paste a kanji you want to look up, or a full sentence that includes that kanji, into the box marked "Japanese Word Search Helper and Text-to-Speech", then click on the Parse button.
---
---
You'll be shown a display screen that looks like this.
---

---
Click on the kanji you want to look up.
---

---
You can also use the mouse to enter hand-written kanji.
Please use the feature "Dictionary Search for Japanese or English".
As you write the kanji, on the right-hand side you'll see a list of potential kanji to choose from. Click on the one you wish to look up.
---
---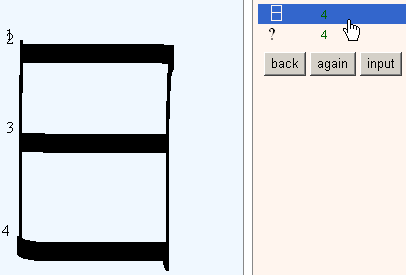 ---
You'll be shown a screen like the one below. Please choose the dictionary you want to use, then Search.
---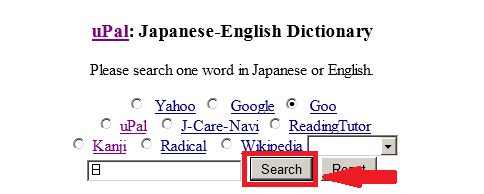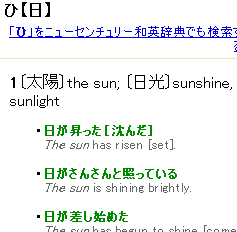 ---
You can also find some kana/kanji quizzes and an animation showing how kanji came about at the top right-hand side of the top page.
---

These contents are part of the SP Home Page of the Department of Electric Engineering and Computer Science, Faculty of Engineering, Iwate University.

There you can also find
United Links for Japanese Learning Web Resources (Introduction article) for links,
Associative Kanji Learning (Introduction article) for learning kanji, and
LESSON/J (Introduction article) for practising listening.

Last update 2010.03.31
Search