Learn vocabulary with photos

Learn Free Japanese Vocabulary with Gengo Audio Flashcards
Category: Vocabulary
Level: Beginner
Recommended points
---
You can study words using photos and audio.
---
What can you do?
---
You can memorise words using photo flashcards and games.
You can study by listening to audio.
With the Lite version you can study words for 'Weather' and 'Fruits.'
---
How to...
---
The Lite version is free of charge.
The only vocabulary lists available are 'Fruits' and 'Weather.'
Try using the app with these and if you find them easy to use and suited to your own learning style please tap on the 'Upgrade' button at the top right of the screen.
This leads to content you must pay for, but here you can study words from other categories with colourful pictures, and you can also make your own lists.
---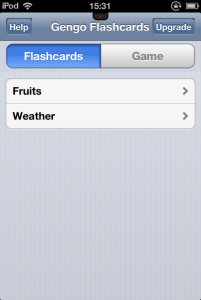 ---
Let's take a look at the flashcards on the Lite version.
---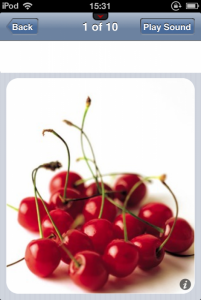 ---
The photos are big, clear and eye-catching, so you can enjoy learning the words.
Tap on the small 'i' mark at the bottom right of the screen and the Japanese meaning will be displayed. (Bottom screen)
Tap the 'Play Sound' button to hear audio.
Having studied everything from start to finish using the 'Flashcards', you might like to try checking things with the 'Game' section.
---
---
This is the 'Game' screen. When the audio is played you choose and tap on the correct photo.
If you don't understand, you can tap on the 'i' mark to check the back of the card.
---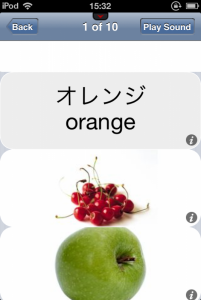 More information about this app.
App. name

Learn Free Japanese Vocabulary with Gengo Audio Flashcards

Languages

English

Category

Education

Developer

Innovative Language Learning, LLC

Price

Free

Size

20.1MB

Version

1.7

Requires

Compatible with iPhone, iPod touch and iPad. Requires iOS 4.3 or later. Optimized for iPhone 5.

Learn Free Japanese Vocabulary with Gengo Audio Flashcards
Free(2013.04.08)