Recommended points
Look up full sentences using the dictionary with over 100,000 vocabulary words recorded.
Add example sentences and definitions to create your very own dictionary. Repeat and learn words that you looked up, quiz-style.
What can you do ?
Directions are in Japanese and English.
You can switch them from the Top Page.
Add words that you looked up to your vocabulary list, easily.
Use quizzes to review meanings, or practice how to read and write.
Practice your writing using the quiz with handwriting recognition.
Test yourself with a variety of sample quizzes (JLPT levels N1-5).
How to...
This is the Top Page.
Choose from "Quizzes" or "Dictionary".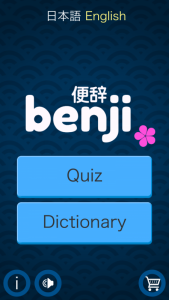 Let's try the "Dictionary".
When you enter a word or sentence that you want to look up, the dictionary automatically selects vocabulary. Each dictionary word has a pop-up for you to look up.
Simply tap the "+" button at the top of the pop-up to add words that you looked up, to your vocabulary list.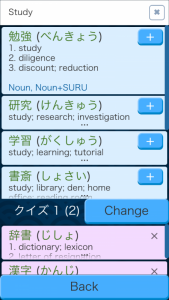 Tap the notebook icon at the bottom right on the quiz page to learn the newly added vocabulary words in a game.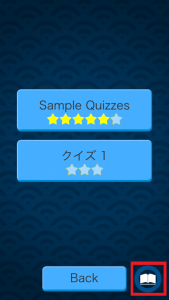 There are seven "quiz" levels for you to challenge.
Let's try "初心者 (beginner level)".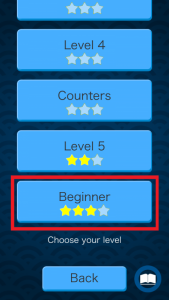 We'll tap "ひらがな① (Hiragana 1)", the quiz we have chosen.
Now let's select "読む (Read)".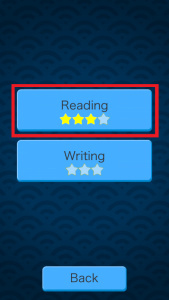 A hiragana will appear on screen. Choose the proper reading from the bottom and tap the button.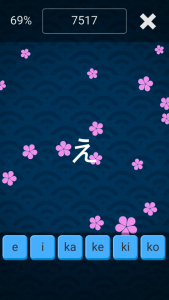 If you make a mistake, a hint will appear. Use it to make sure and you'll be fine. Then you can move on to the next question.
When you get the answer right, cherry blossoms will flutter from the top of the screen. The more you get correct, the more cherry blossoms will fall, filling your screen and making it beautiful.
There is also big easy-to-read animated stroke order with the writing quiz, which is great if you're learning a letter or character for the first time.
There are quizzes where you write hiragana, katakana, or kanji while looking at English or Japanese, those about counting and reading dates, and many other kinds to choose from. Whether you're a beginner or an advanced learner, this app lets you learn Japanese without ever getting tired of it.