There are lots of convenient ways to use the online dictionary 英辞郎 (Eijiro) on the WEB Pro Lite (Free). One of them is "レター文例 (sample sentences for letters)".
You can use this function for free with the trial version, for which you need to register.
Once you log in, click "ガイド (guide)" at the top of the screen.

Choose "便利な機能・コンテンツ (useful functions and contents) "from the functions and use guide.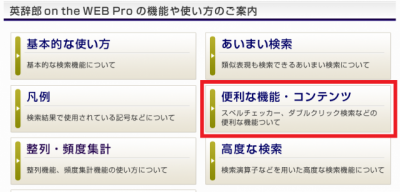 Now you see 10 functions.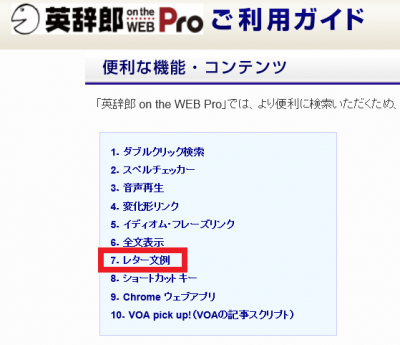 Click "レター文例 (sample sentences for letters)" to search samples from seven categories.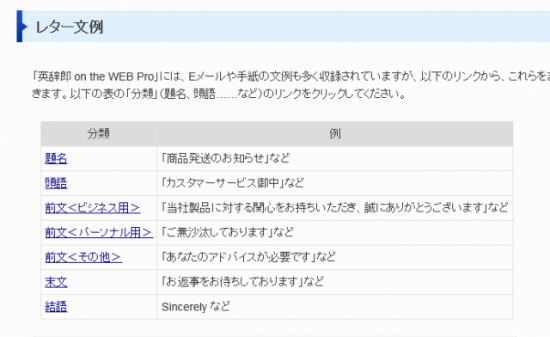 There is an even more convenient way to use the site.
You can narrow down the example sentences you are shown, to correspond with whatever you wish to write about in your letter or email.

For example, let's try looking at examples for if you wanted to send a thank you email to an acquaintance.
Here, you would enter the category 前文(個人), followed by a space and then the word 'thank'.

Having done this, the dictionary will present a list of example sentences that include the word 'thank'.
This feature will definitely come in handy if you find yourself unsure of how to use greetings in your writing, and especially when starting and ending a letter or email.

Since the displays are all in Japanese only, there may be some of you who find it a little difficult to navigate your way through the site. If so, you could try using a reading tool such as POPjisyo or Rikai.com alongside the dictionary.