It's nice if you can have a little fun as you study hiragana, right? Well, using Quizzes for Hiragana, Kanji, Verbs & Listening (Introduction article), a part of Access Japanese (Introduction article) you can try a quiz based on the names of stations on Tokyo's 'Yamanote (train) Line' to practise reading hiragana.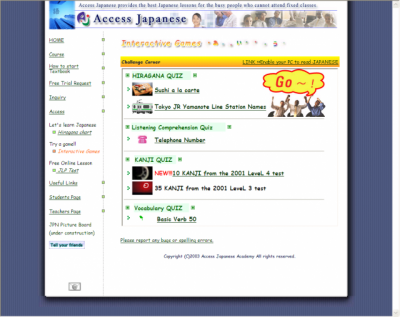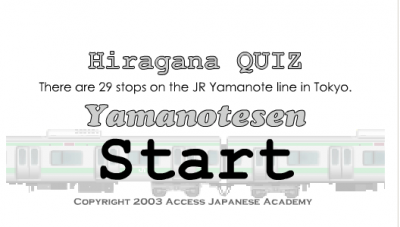 First, I'll explain a little about the Yamanote Line for those who don't know what it is.

The Yamanote Line is a commuter rail line that runs in a loop within the 23 wards of Tokyo. It's a really convenient rail line when travelling around Tokyo, as it'll take you to popular spots like Akihabara and Harajuku.
Anyway, in the hiragana quiz there are questions for each of the 29 stations.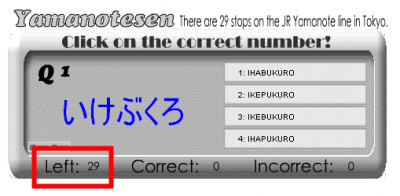 Take the quiz a number of times and, as well as honing your hiragana skills, you'll be able to memorise all the stops on the train line too.

After this, you probably won't even need to check the map when you next go riding on the Yamanote Line!

You can also easily try a basic verbs quiz and a listening quiz on the site. For people who want to study just a little Japanese, those who want a quick review method or those who just want to try studying with some games for a change of pace, this is a really useful place to start.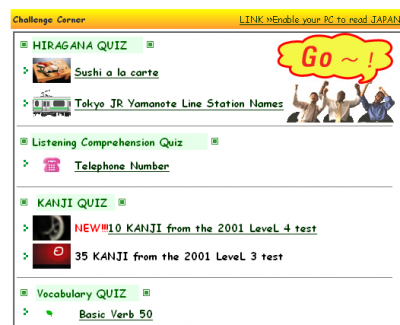 If you live in Tokyo, or you have a chance to visit the city, please try riding the Yamanote Line. You can also have a go at seeing how much of the conductor's Japanese announcements you can understand!
If you're interested in the Yamanote Line, try reading our other article on the subject, On the Tokyo Yamanote Line (2) as well.

If you want to know about the Yamanote Line in more detail, please take a look at this site: JR-East Yamanote Line, JR-East Yamanote Line(2)(From the top page, FUNINI.COM, please enter via "世界の電車" [World Trains]). Here you can see photos of the trains that run on the Yamanote Line, and the various stations along it.