Most reading comprehension materials come with a vocabulary list of 'New words and phrases found in this reading', don't they?
A great feature of the Reading Resource Bank of Japanese Language Reading Tutorial System: Reading Tutor (Introduction article) is the fact that you can make your own vocabulary list.

Here we'll introduce a good method for learners who want to memorise their Reading Resource Bank vocabulary list: using the website 単語カード (Word Cards) (Introduction article), you can do this anytime, anywhere!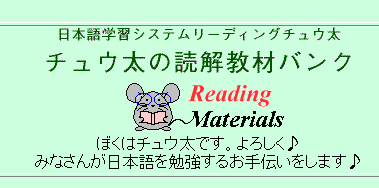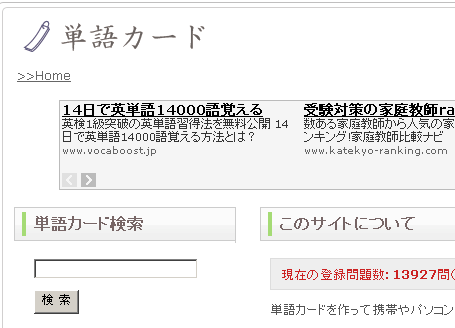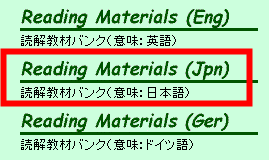 First, click on 'Reading Materials (Jpn)' and you'll be taken to the contents screen. There are lots of things to read here, along with a level-of-difficulty system that offers a good guide when it comes to choosing a particular piece. Fewer stars means the reading is easier.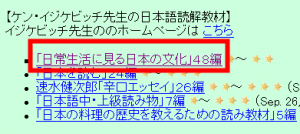 Let's take a look at Ken Ijikevich's Japanese Reading items. From 48 items under "日常生活に見る日本の文化 (Japanese Culture Seen in Daily Life)",. we'll look at "ありがとう、じゃあ、さようなら (Thanks, Okay, Bye!)", a beginner level piece of reading.

Here's the article. Click on the linked vocabulary in the writing and the meaning and reading of the word is displayed on the right-hand side of the screen.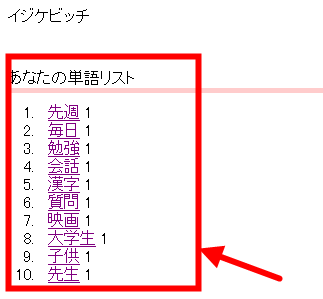 If there are any words you don't know, or you still haven't completely memorised yet, click on them and they'll be added to the vocabulary list at the bottom of the screen. In this way you can make your own personal vocabulary list for the article "ありがとう、じゃあ、さようなら".
So that you can memorise your words - even when on the move - we'll now visit the 単語カード (Word Cards) website, where you can make your own flashcards. Using 単語カード, you can shuffle the order in which questions appear, plus you can also use it on a keitai (Japanese mobile phone) so if you live in Japan and have a keitai you can study wherever you are.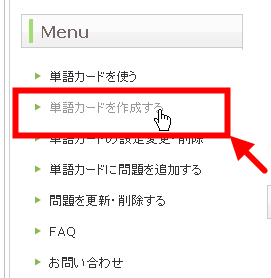 First, from the 単語カード menu click on '単語カードを作成する' (Make word cards).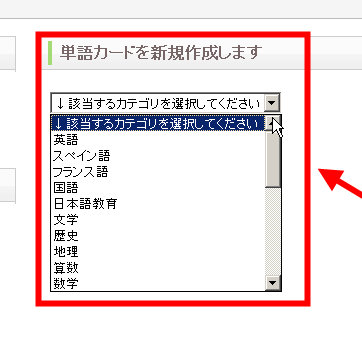 From the window marked '単語カードを新規作成します' (Make a new card), you need to choose a category. As there is one called '日本語教育' (Japanese Education), let's select that.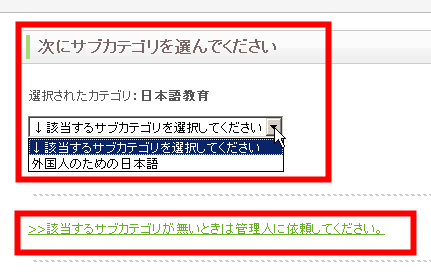 Next, choose a sub-category. We'll select one of the ones already listed, '外国人のための日本語' (Japanese Language for Foreigners).
If you want to make a new sub-category (or category) that isn't currently available, you can have one added if you contact the site manager.
Now we move on to the basic settings for the cards.
You'll need to add information such as a name for your deck and a password for browsing through and updating your cards (both are required fields).
Other than this, you can add information such as an email address, whether you want to make your cards public or private, whether you wish to allow other users to add to your cards and so on. Finally, press the '送信' (Send) button.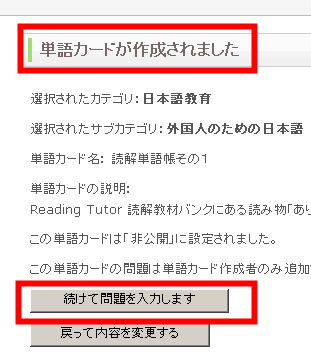 Having set up your cards, you can start to enter your questions/study contents by clicking on the button marked '続けて問題を入力します'.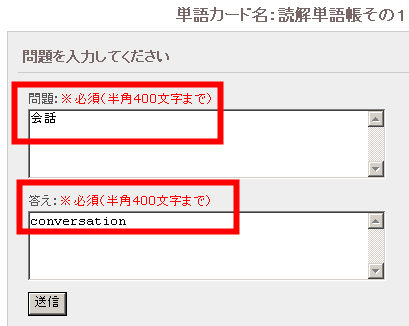 Now let's enter questions and answers for our word cards. When you finish inputting a single card, click on 'さらに問題を追加する' (Add more questions). When you have finished entering your deck, click on '単語カードに戻る' (Return to Word Cards).
The most stress-free method would be simply to copy and paste the items from the vocabulary list you made with Reading Tutor. Keep both sites open on your PC whilst you do this.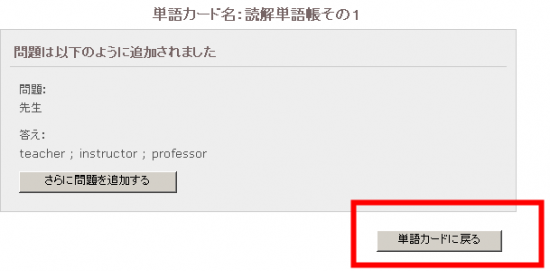 Once you've completed this step, you'll have a deck of cards that look like this. Begin with the question and the answer will appear on the next page. Shuffle the questions and the order in which they are presented will change, so practise repeatedly and you can check to see if you've memorised them properly.

You can access a deck of cards you have made through the mobile phone-based site (available via the QR code - pictured above - or through the URL address written underneath it).
(This service can only be accessed via Japanese Keitai and PHS.)
With this, as long as you have your keitai with you you can practise anywhere. Even people who don't have time to sit down and study can use their time efficiently to get some extra learning in!
Having memorised your word list, try going back to the Reading Tutor Resource Bank. Think how happy you'll be now you can read and understand the whole article!