Level:

Basic Intermediate Advanced

Keyword:

Character
Different characters on different sites to help you learn Japanese…
For this article, we've gathered together a few characters who appear on Japanese learning websites.
Have you seen any of these guys before?

---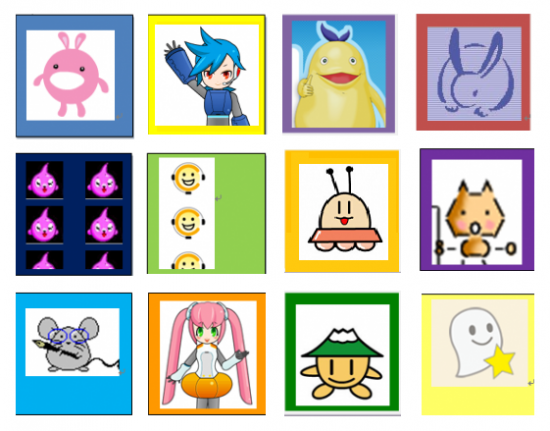 ---
Characters usually have a relatively small on-screen presence but they can often help lighten the mood of a website, making them an important element for learning sites.

So, some of you might know some of the sites that these characters belong to...
---

Of course, you must be familiar with the eジェント (Agents) who appear on our NIHONGO eな website. It's a safe bet they're out there right now, searching high and low for stars of information to make you say 'これいいな!'
---

This is Care-kun, the navigator for NIHONGO de CARE-NAVI (Introduction article), a site created by The Japan Foundation, Japanese-Language Institute in Kansai. For more detailed information about Care-kun, please take a look at this article (Japanese only) called 悩んでいる事があれば、いつでも言ってください。(If there's something troubling you, please say!).
---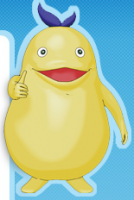 These are two characters from The Japan Foundation's online version of エリンが挑戦!にほんごできます。(Erin's Challenge! I can speak Japanese.)(Introduction article): Erin, a student of Japanese, and Honigon, who plays the role of her teacher. Apparently Honigon-sensei wears glasses when they study. See if you can find him!
---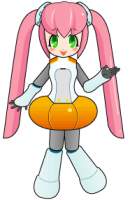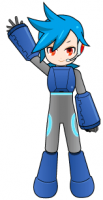 Here are the two navigator characters, Emina and Agnam, from The Japan Foundation, Japanese-Language Institute, Kansai's Japanese in Anime & Manga (Introduction article) website. Their cool ninja outfits are a must-see! (There are even some 'kisekae', or dress-up dolls, for you to try out!)
---
...Well, that's a quick introduction to all the characters who appear on The Japan Foundation's websites.
It seems they usually come in pairs, doesn't it?!
So, now let's look at some other websites that have cute, or even mysterious characters gracing their pages.
---

At JGram (Introduction article) you'll find this little pink character...
It looks a bit like the bottle that the character Akubi-chan pops out from in the Japanese anime ハクション大魔王 (The Genie Family, A.K.A. "Bob in a Bottle"), don't you think? (This reference might be a little too dated for some of you..!!) No, wait a minute, it kind of looks like a little monkey, doesn't it? Or, um, Billiken..!?
Anyway, I'd really like to find out exactly what this unforgettable little character is, and whether or not he/she/it has a name!
---

Go to Online Nihongo (Introduction article) and you'll find another delightful pink character strolling onto the top page from the right-hand side of the screen.
When we asked the creator of the site about this funny little fellow, we found out he goes by the name of "Usaten" (apparently the name just popped into the creator's head as she looked at him), and she also had this to say: "because a lot of the students I taught enjoyed Japanese pop culture, in particular anime and manga, I thought it would be nice to make a cute character to give them a little more motivation to study."
Makes perfect sense! We were simply captivated by those round eyes, and found ourselves wanting to visit the site just to catch a glimpse of him once again... We're pretty sure students' motivation to study will go up and up!
---

Here's the silent rabbit who graces the screen of Usagi-chan's Genki Resource Page 兎ちゃんの元気リソースページ (Introduction article). Might this actually be "Usagi-chan"?
---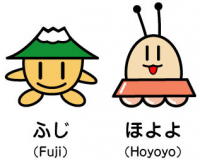 This is Fuji and Hoyoyo, from わいわいにほんご YYNIHONGO (Introduction article). Look at the hat that Fuji's got on his head (that IS a hat, right?), and the UFO-style skirt (that's a skirt...isn't it?) worn by Hoyoyo... Anyway, what an original pair of characters they are!
---

This is the tutor from the Reading Tutor Homepage (Introduction article). Seeing as this is such a popular site, for many of you the answer to the question "Have you seen this little guy before?" will probably be "Of course, I know him well!"
Tutor=チュウ太(Chuuta)=a little grey mouse wearing spectacles... How cute!
---

Visit JOSHU – Japanese Online Self-Help Utility (Introduction article) and you'll meet this free-spirit of a character! Move the cursor over the menu items at the bottom of the screen and you'll see him in all kinds of situations!

---

This is a penguin character from the website Japanese Songs 日本の歌 (Introduction article). On the 'はじめに (Start here)' page, he can be seen doing a little dance. How cute.
---
So, you can see, do some searching and you'll find mascot characters popping up on Japanese-learning sites everywhere!
As key elements in forming the colour-schemes of websites, and as navigators guiding you through how to use online tools, you just can't take your eyes off them!

---
We've got the MOST characters though!
Last update 2010.07.23
Search