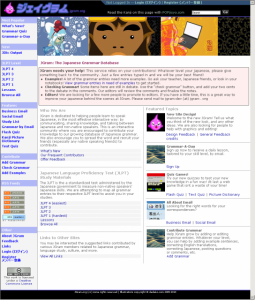 This is a list of important Japanese grammar points with explanations and example sentences. You can practise these with quizzes and flashcards. Phrases and example sentences of the language used in emails are introduced here too.
You can find a list of grammar points plus explanations of each. There are also plenty of example sentences.
There are lists for intermediate and advanced grammar.
If you register, you can write your own explanations and examples.
Join the mailing list to have a a grammar explanation sent to you every day. (Related article New grammar and kanji sent to you each day!)
There is a collection of examples of the kind of sentences used in emails. (Related article Help with writing emails (2))
There are text-style quizzes and flashcards you can use to practise.
This is the list of grammar points.
You can see the following information for each at a glance - romaji and kanji/kana notation, parts of speech, the meaning (in English) and the number of example sentences for that entry. Since example sentences are written by users, their accuracy is noted in the far right column where it says 'checked'.
You might see numbers such as [-1] or [-2]. This shows that the meaning or example sentences for that grammar pattern require checking.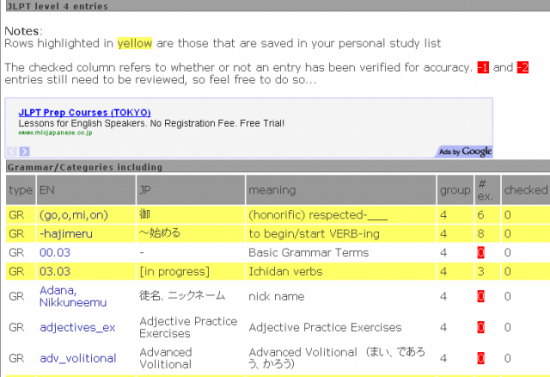 The next image is the detail screen for a grammar point. All kinds of details, from the meaning of the grammar and its reading in kana and romaji, to information about parts of speech, are provided here.
In the example sentences, the grammar point itself is highlighted in colour to make it clear.




Click on Business Email and you are shown a list of words and expressions commonly used in business emails. Lots of example sentences are also introduced here, making it a very useful section for people working in Japan - or those working with Japanese people - who must deal with emails in Japanese.(Related article Help with writing emails (2))

This is the flashcard quiz screen. For this type of quiz you need to arrange the Japanese parts of the sentence to match the English meaning.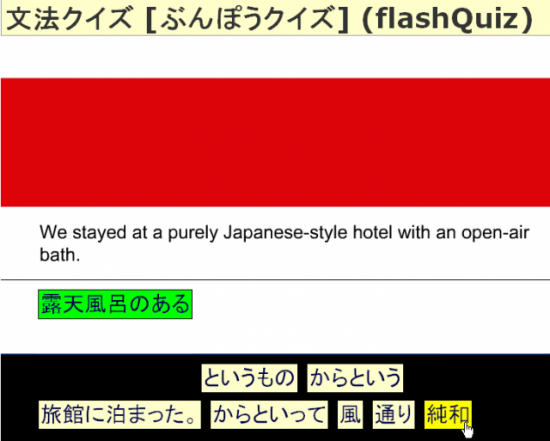 Text Quiz quizzes a made up of 'fill-in-the-blank' style questions. Answers are multiple choice.