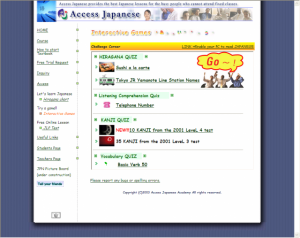 Here you can take some fun quizzes on everything from sushi toppings to station names on Tokyo's Yamanote Line. You can also try your hand at some simple quizzes on kanji, basic verbs, number-based listening comprehension and more.
You can have fun while you practise hiragana with quizzes that have you pick the correct sushi topping (pictures included) or choose the right romaji spelling for hiragana station names on the Yamanote Line.
As an introduction to kanji you can take a quiz for 10 basic characters.
There is a quiz for 50 basic Japanese verbs.
There is also a listening quiz for numbers in Japanese.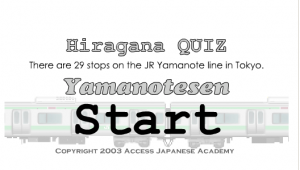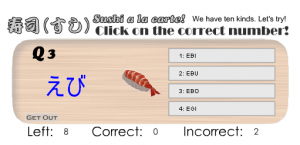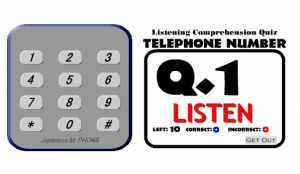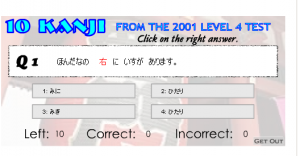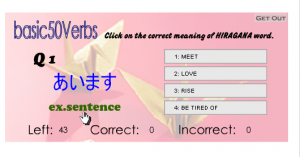 In the "e! Kore" section there are articles that use the kana quizzes from this site, called Learn the kana in a fun way using games! and On the Tokyo Yamanote Line(1). There are two versions of the "On the Tokyo Yamanote Line" article in "e! Kore", one aimed at beginners and one at advanced students(On the Tokyo Yamanote Line (2)).
These contents are part of Access Japanese (Introduction article).