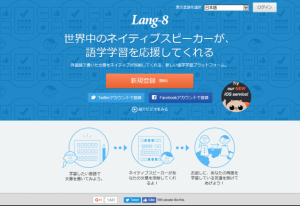 A community-style language-learning site where you can have a journal you write in the language you're studying corrected by a native speaker.
The site caters for 90 languages to study, with people from all over the world participating
You can display your journals and photos publicly, and join a community of users with the same interests.
It's a site where users can learn a new language while making use of their mother tongue and both helping and receiving help from fellow students.
There is a button to change the display language, which you can find at the top right of the screen.

In order to register you need to enter a nickname, native language, study language, timezone and email address. Basic registration is free, but if you decide to become a premium member, a fee is charged.

This site has a smartphone version, too.