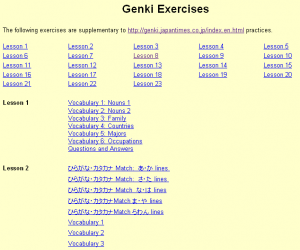 This is a website where you can practise vocabulary appearing in the "Genki" series of Japanese language textbooks. The site has simple practice quizzes where you can check the vocabulary for, plus your understanding of, all 23 lessons found in the text.
There are practice tasks for you to make sure you understand vocabulary from the textbook.
Since there are vocabulary quizzes for all the lessons in the book, this website is a convenient resource for preparatory study or reviewing anytime you need to.
If your percentage of correct answers in the quiz is too low, you cannot progress. It's quite tough!
How to...
Let's take a look at Lesson 1.
There are some vocabulary words and phrases arranged by category, then lastly a Questions & Answers section.

Here you can practise some nouns found in Lesson 1, under the category 'Nouns 1'.
The answering method is quite simple - for the vocabulary on the left-hand side all you have to do is choose the corresponding meaning from the right and drag it over.
If you get the answer correct, the meaning card on the right will slot into place next to the vocabulary.
The method is exactly the same for the Questions & Answers section.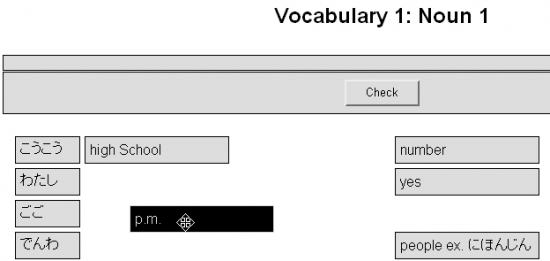 These contents are also introduced in our "e! Kore" article called Review the textbook online! - "Genki"version. If you're interested in reading further, please take a look!

These contents are part of Lyon College.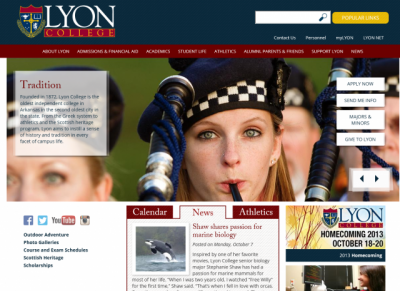 To get here from the Lyon College homepage, follow these instructions.

From 'Academic Programs' in the 'ACADEMICS' memu, click 'Language&Literature'.
Next, select 'Japanese'.
Click on 'JET Program' and then choose 'Genki Exerxises' in the 'Online Resources'.