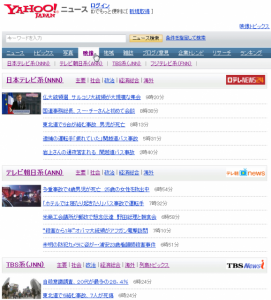 You can watch news videos from the TV networks.
News video clips from four broadcasting companies (Nippon TV's NNN, TV Asahi's ANN, TBS's JNN, and Fuji TV's FNN) are in list format.
You can practice listening with real news clips.
You can read the news article at the same time.
You can learn about Japan's current social and economic situations.
You can compare the news from Japan's four major networks.
How to...
At the bottom of the screen, the Japanese is shown, so you can confirm if you correctly heard the news.
For the words you couldn't understand, you can play it back repeatedly.

The news is broken up into several genres, such as "Headlines 主要", "Society 社会, Political 政治", "Economic 経済総合", "International 国際", and others, so you can choose the category that interests you.


By pressing "連続再生", you can watch the news continuously.
You can also share the news videos via Twitter and Facebook.


Where ever you are in the world, you are able to keep up with Japan's daily news via video clips from TV for free, so it's helpful to keep you informed with the latest topics among your Japanese friends!

The contents on this page are from the "映像" section of the Yahoo! Japan News site.