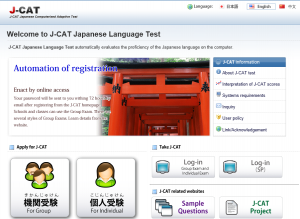 This is a self-assessment test for the JLPT (Japanese Language Proficiency Test). Register (for free) and you can take a test that adapts to suit your ability-level. The test has sections for Listening, Vocabulary, Grammar and Reading, and the questions given change according to the user's correct answers or errors. The time required for the test is around 45-90 minutes.
Using a computer, you can automatically evaluate your level of ability in Japanese.
There are at least 15-20 questions per section, in a multiple-choice format.
Your test score (maximum 400 points) is calculated, and you can check this on your score chart. A comparison chart for the real (old-style, pre-2010) JLPT is also included.
You can take the test at a time that is convenient for you.
How to...
About registration
Individuals (i.e. not affiliated with a school etc.) should click on 'For Individual (個人受験)'.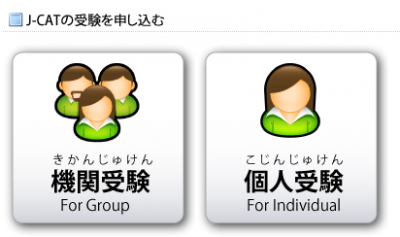 After checking the audio levels, you can then register.
In order to register, you need to enter your name, an email address, your native language, the group or school you belong to (if any) etc.
Apart from that, you'll be asked to respond to a number of questions, which you should answer as honestly as possible so that a test can be prepared which suits your ability level.

Having completed the registration process, within 72 hours a password will be sent to the email address you provided.
Using that password, you can access the test.