This is the study content of Pronunciation: Speaking with Fluency 3-4, a Waseda University Japanese Course for International Students.
It consists of videos (all in Japanese) created as a special class for people who don't have many opportunities to practice pronunciation.
They're very useful for advanced learners who want to be able to speak fluently.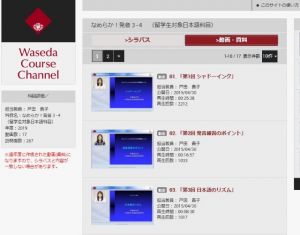 Instructors carefully explain the mechanism and rules of Japanese pronunciation in Japanese.
The shadowing will help you form a habit of making a conscious effort to speak with proper pronunciation.
The free on-demand distribution allows learners from the public who are not attending classes to learn and practice pronunciation at their own pace at any time.
There are 17 videos in all. The length of the videos vary depending on the learning content (from about 5 minutes to about 25 minutes).
The pronunciation lessons are catered towards native speakers of English, Chinese, and Korean.
They are multi-device compatible, so you can watch them on your smartphone as you learn while you're on the move.
How to...
The course has 17 lessons. The play time of each video is listed so you can schedule your study time.
List of video lessons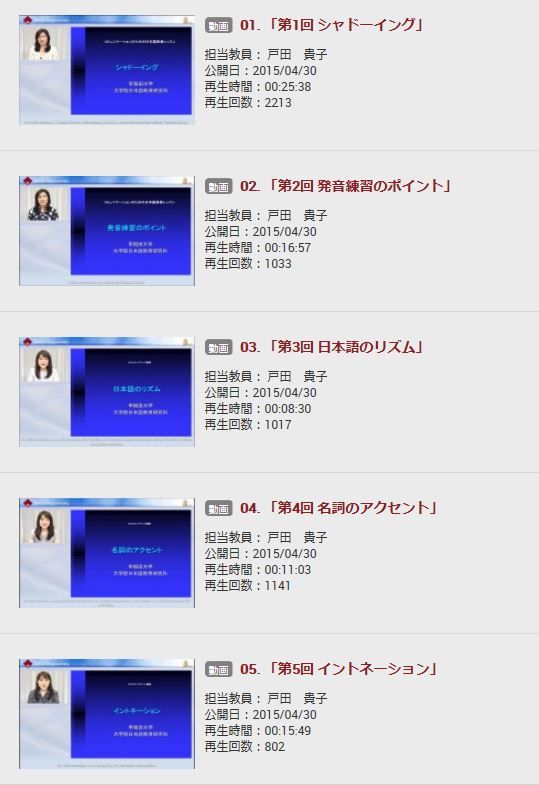 01.「Lesson One: Shadowing」
02.「Lesson Two: Points of pronunciation practice「」
03.「Lesson Three: The rhythm of Japanese」
04.「 Lesson Four: Where to put the stress on nouns」
05.「Lesson Five: Intonation」
06.「 Lesson Six: Rendaku (sequential voicing)」
07.「 Lesson Seven: Onomatopoeia」
08.「Lesson Eight: Japanese sounds」
09.「Lesson Nine: Pronunciation of spoken words」
10.「 Lesson Ten: Speaking to communicate feelings」
11.「 Lesson Eleven: Silencing vowels」
12.「 Lesson Twelve: Where to put the stress on i-adjectives」
13.「 Lesson Thirteen: Where to put the stress on verbs」
14.「 Lesson Fourteen: 「へ」 - shaped intonation」
15.「Pronunciation lessons for native English speakers」
16.「 Pronunciation lessons for native Chinese speakers」
17.「Pronunciation lesson for native Korean speakers」

Let's take a look at Lesson One: Shadowing.
You can also start with a section you want to watch by clicking (or tapping) the corresponding slide on the slide list.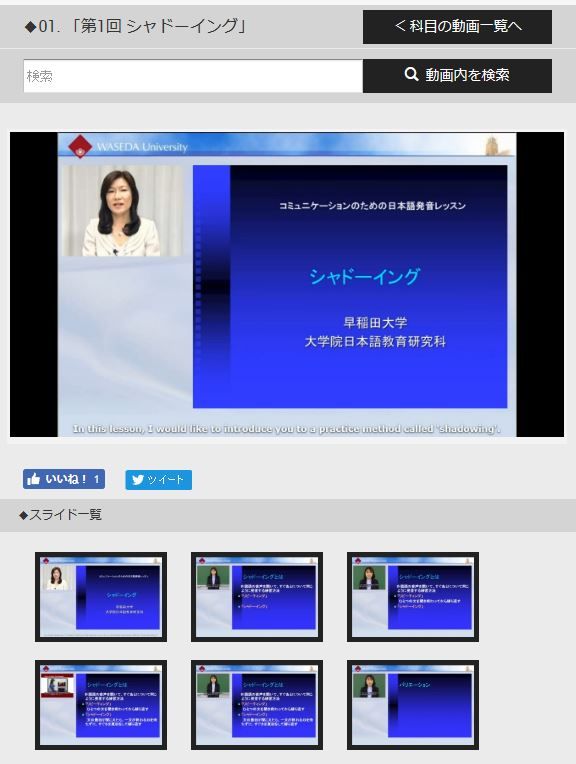 Use your browser or 「科目の動画一覧へ (list of subject videos)」 next to the class title to go back to the list of videos.


It would be ideal to have the opportunity to practice pronunciation with native speakers on a regular basis, but for learners who don't, this style of using on-demand videos to concentrate and practice at your own pace could be valuable.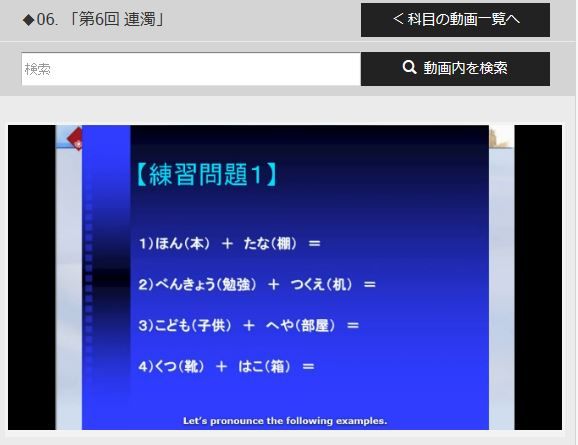 If you find it difficult to read the page or if the display is different from what you see here, try entering "Pronunciation: Speaking with Fluency 3-4" in the Waseda Course Channel search window.