What can you do?
Simply look at the English, Chinese (simplified), or Korean translation and tap to hear the Japanese.
You can use this in various situations where it's needed on a trip or for those who just moved to Japan.
There are audio clips included as well, so you can use it if in a hurry and need to say something.
Use the voice search function to search a phrase.
How to...
This app is part of the contents of "YUBISASHI mini JAPAN 英語 touch & talk" (free).
First, download "YUBISASHI mini JAPAN 英語 touch & talk". Then, choose "YUBISASHI NIPPON CALLING"from the bookshelf on the main menu and download it to use it.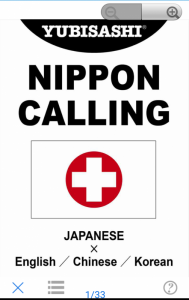 Once you have downloaded the app, you can use it off-line, too.
You will find scenes from basic ones like "Greetings", to "Introducing Yourself", "Drugstores & Clinics", "At the Hospital", "Emergencies", and "Keeping in Touch".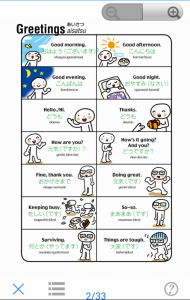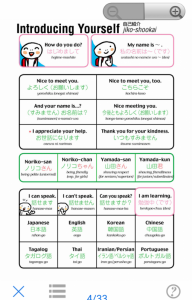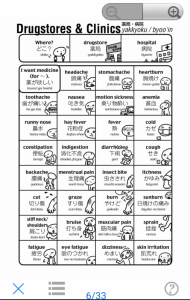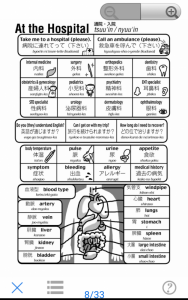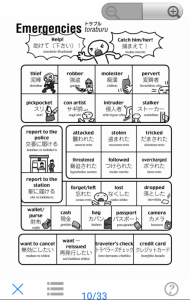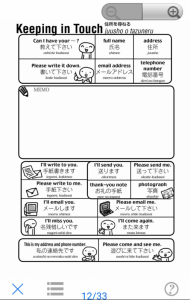 There are English, Chinese, and Korean translation pages.
Tap the red box at the bottom of the screen to see the book menu.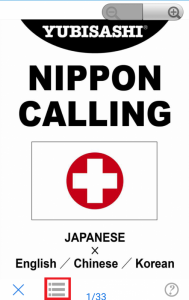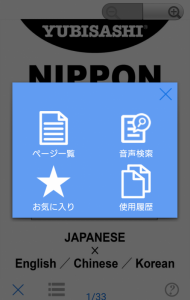 「ページ一覧 (page list)」→ See the list of pages for each language.
「音声検索 (voice search)」→ Voice search phrases in the language.
「お気に入り (favorites)」→ See or listen to phrases you added to your favorites.
「使用履歴 (history)」→ See your history.

Tap the page list (「ページ一覧」) to search for phrases using the language of your choice.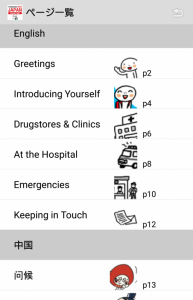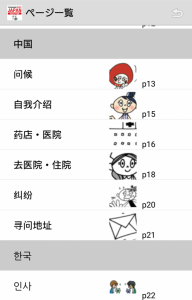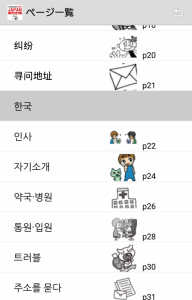 Tap the phrase panel to listen to the Japanese audio over and over again.
Long-press the panel to show the menu for you to add things to your favorites or clipboard, or even share on SNS.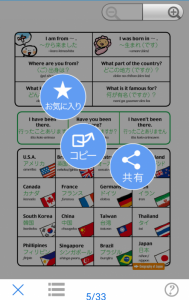 Tap the question mark at the bottom right of the screen to see the explanation for the icon.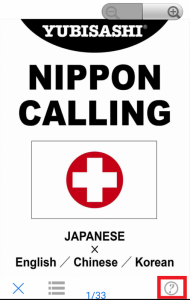 Won't this be a useful app not only when you travel, but also in daily life when you need help or when you can't remember how to say something in Japanese at the hospital? It'll be good for learners of Japanese who don't know such phrases yet, too.