KanjiRepeater
http://unckel.de/kanjirepeater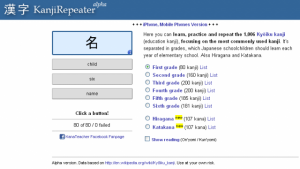 This is a website where you can practise the 1,006 "kyouiku kanji" (all the characters taught in Japanese primary schools, separated by grade). There is a mobile phone (keitai) version too. You can also practise all the kana using the same style of quiz.
You can study vocabulary items that use the kyouiku kanji.
It is a quiz where you look at a kanji and choose its correct meaning. Quizzes are separated by Japanese elementary school grade.
You can take kana quizzes too.
The order in which kanji are presented changes randomly each time you renew the webpage, so you can practise over and over again.
---
How to...
---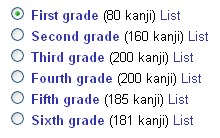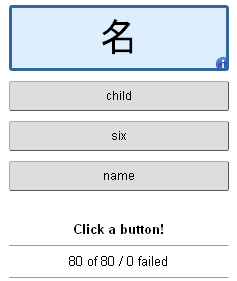 ---
A kanji is displayed at the top of the page, with a choice of three possible meanings underneath. Choose and click on the correct meaning to move on to the next question automatically.
You are shown how many answers you have made a mistake with.
Each quiz tests you on the number of kanji studied in that school year, so some people might feel there are a lot to get through. If you encounter a kanji you don't know, try taking your time and studying carefully before taking the quiz again.
---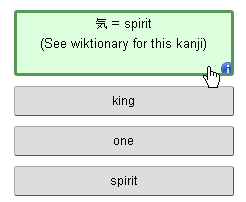 If you don't know the meaning of a particular kanji, move the cursor over the kanji box and it will be displayed for you. It's a good idea to make a note for yourself of the kanji you need help with.
---

Check the 'Show reading' box and kanji readings will be displayed in romaji next to the meanings in the answer choices, so if you're having difficulties this might be another useful hint for you.
---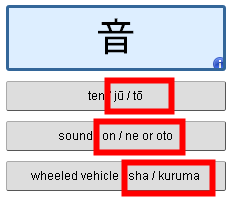 ---

Click on 'List' and you will be taken to a Wikipedia page about the kyouiku kanji, where you can see a list of all the characters by grade.
---
---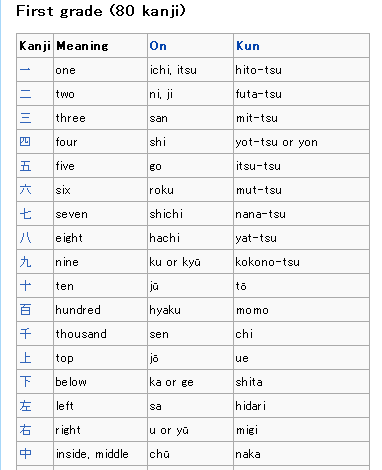 ---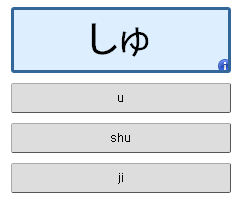 ---
This site has a smartphone version, too.
---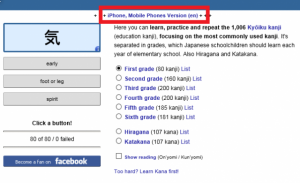 ---
Click "iPhone, Mobile Phones Version" to use it.
---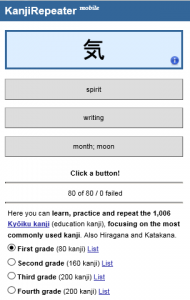 Last update 2011.01.28
Search