Recommended points
This is a multilingual dictionary (Japanese-English/English-Japanese, French, German, Spanish, Russian, Italian etc.)
It uses Jim Breen's extensive, detailed database.
A version optimized for use on tablets (2.0) has also been released.
Includes an abundance of terminology (computing/life sciences/legal/finance etc.).
What can you do?
Turn on the feature to play back Japanese text as audio.
You can have the meanings of kanji and words read aloud for you.
You can search for kanji from their component parts.
Use the dictionary along with the handwriting recognition app 'Kanji Recognizer' and you can make use of a fast offline handwriting recognition function.
You can create your own kanji/vocabulary lists using the 'お気に入り' (favourites) feature.
You can search for and analyse example sentences.
How to...
This screen presents a mix of kanji and kana.
It might be a little difficult for beginners, but once you understand how to use it it's very convenient.
The 'あ' symbol is the dictionary, the '漢' is the kanji dictionary and the '文' is the example sentence search.
We tried looking up the word '山'.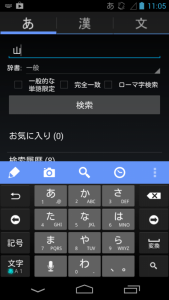 These are the search results. We'll choose '山' from the very top of the list.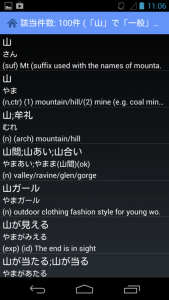 This is the detailed screen for '山'.
The light blue section at the bottom of the screen is the menu.
The magnifying glass icon on the far left allows you to search further. The next icon (second icon from the left) lets you copy that particular word. The third icon (third from the right) lets you share that word with other users. The fourth icon (second from the right) displays example sentences that use the selected word.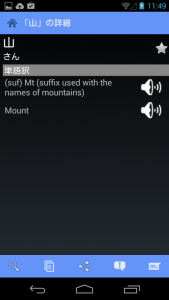 When you wish to share a word with other users, choose your application.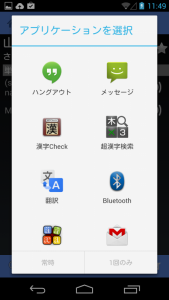 Example sentence display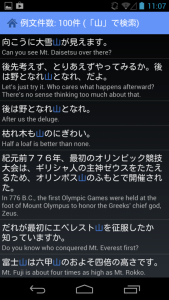 Let's try a kanji search.
Before doing so, it's a good idea to go to the kanji search settings.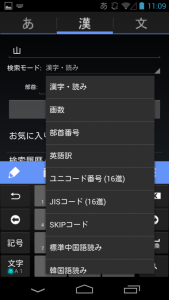 We'll search from the number of strokes in the kanji component.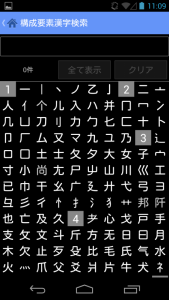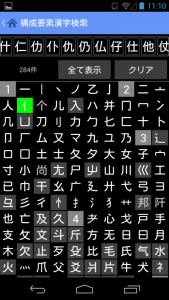 Kanji are arranged by stroke number. We'll choose a radical from those displayed.
Having done this, kanji that have this radical are shown at the top of the screen.

If you want to hear audio for the text you have searched, please install the free TTS (text-to-speech) data. You can then select the language you want to hear.