Recommended points
The dictionary uses Jim Breen's EDICT database (includes lots of vocabulary entries and information).
You do not need a Japanese keyboard.
An internet connection is required to download the dictionary (EDict/Kanjidic/Tanaka) initially, after which you can use the app offline.
Romaji display is possible, which is a useful feature for beginners.
What can you do?
This is an English-Japanese/Japanese-English dictionary.
You can search for example sentences.
You can look up how to conjugate verbs. The dictionary form of verbs is displayed.
You can translate simple sentences.
How to...
Enter the word you want to look up in the search box and tap on either the 'From Japanese' or 'From English' button, depending upon the language from which you want to search.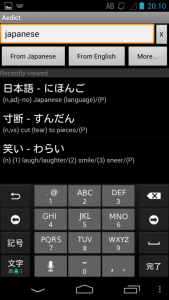 Tap on 'More…' and you can choose settings to 'Deinflect verbs' (put in dictionary form), 'Search in examples' and 'Translate',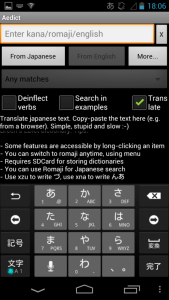 and fine-tune settings to search for an 'Exact match' or a 'Starts with... match'.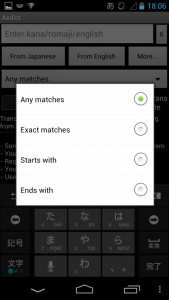 Downloading the app will install the dictionary.
There are a total of 3 dictionaries you can install.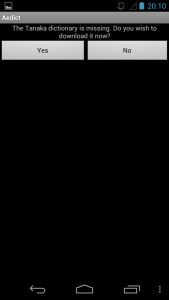 Let's look at the detailed screen.
Several example sentences are shown, and we can see that the actual word being looked up is displayed in blue.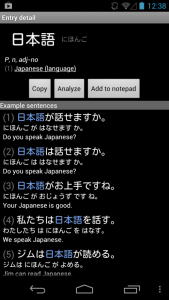 When we do a search for the same word (in Japanese) using the 'Search in examples' feature, we get the results shown in the image below.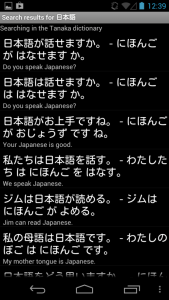 We can choose one example sentence and see in more detail how that sentence is constructed.
The meanings of the particles are included too, so it makes for good grammar practice too.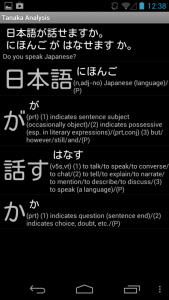 This is the result shown when we enter the verb '読みます' in the search box and tap the 'Deinflect Verbs' button.
The dictionary form is displayed for us. This is a convenient feature, as you can look up a verb and find the meaning even when you don't know the dictionary form itself.