What can you do ?
It records your voice as you practice and lets you listen against the model voice.
After recording, you can see your voice waves and the high and low of you're accent, compared to the model.
How to...
When you log in, you will see the Introduction screen.
You'll see a video with captions to tell you how to practice, so even if you've never shadowed before, you'll be fine.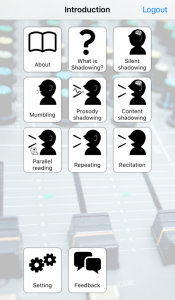 Swipe the screen for the Practice page.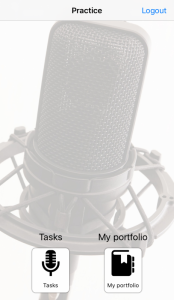 Tap "Tasks" at the bottom of the screen to see Questions.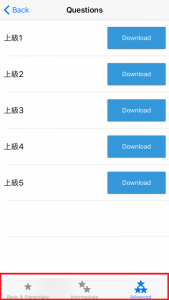 There are three levels of questions: beginner, intermediate, and advanced.
There are 48 beginner questions, 14 intermediate, and 8 advanced.
To start practicing, you need to download each topic.(There are 70 topics to download.)
Let's select Beginner 1 and download that.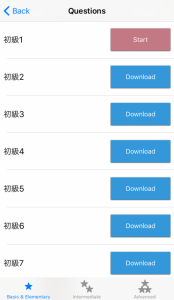 When it has completed downloading, the "Start" button will appear.
Tap that to display the conversation script for the topic.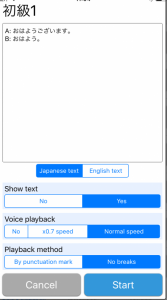 You can choose "show" or "hide" for the script. If you choose to show, you can choose English or Japanese.
You can choose from three speeds, "regular", "0.7", or "none"."0.7" might be a good one to choose until you get used to the speed.
To play back, you can choose "punctuation (by syllables)" or "full (no breaks)"

After you select, tap the "Start" button to begin the recording.
Practice aloud after the model voice.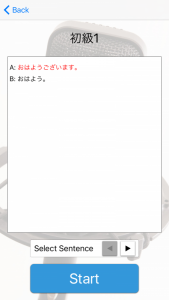 When you're done, tap the "Finish" button to see the phonetic waves and level of accents automatically shown over your own recorded phonetic waves and accent levels. You can easily see where you have made a mistake because you can listen to your voice and watch it at the same time.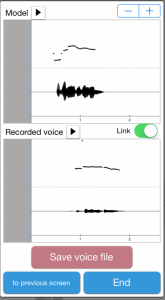 You can re-record by going back to previous screen with the "to previous screen".
If you tap "Save voice file", the voice that you recorded will be saved in "My Portfolio" at the bottom of the screen.
From "My Portfolio", you can listen to previous recordings you have made. It might be a good idea to listen and compare, to see your progress.