Can-do
Learn 'kuzushiji' efficiently with your smartphone or tablet.
Learn how to read hentaigana (variant kana) and sooshotai (highly cursive) kanji by looking at more than 3,000 examples of 7 'kuzushiji.'
There are tests to check and see if you've learned them.
You can practice your reading comprehension with books that were actually published during the Edo Period.
Useful for reading old materials to research history or literature.
It has a social function so you can work with other users and help each other when something seems impossible to read.
There is also an explanation in English.
It's very simple and easy to use.
How to...
Characters today are different from what they were in the past.
There are many kanji and characters (kana) that even native speakers of Japanese can't read.
The app helps you to learn easily on your smartphone or tablet, so just being able to read one character could make it all that much more fun.
This is the top screen. Start by reading here to make it easier to understand, because it explains how to use the app as well as the basics of learning 'kuzushiji.'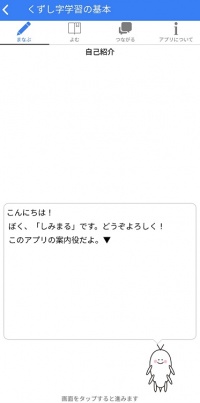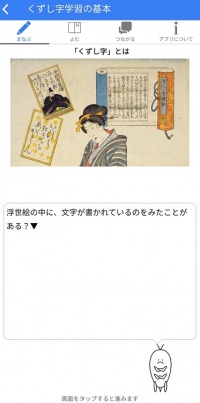 Scroll down the screen to find 変体仮名をまなぶ (Learn hentaigana) and 草書体漢字をまなぶ (Learn sooshotai kanji).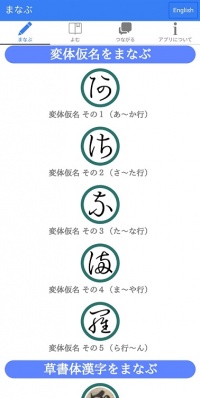 変体仮名をまなぶ is divided into Japanese syllabary lines.
Let's take a look at あ.
You can see that あ originated from more than one kanji, 安 and 阿.
The kanji 安 became the kana あ.
There are various image examples that make it useful when you actually have a chance to read them.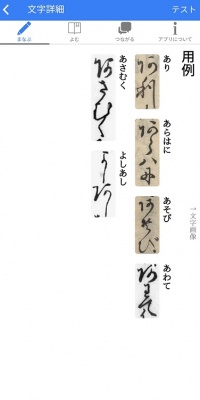 You can enlarge by tapping on the image, to see the shape clearly.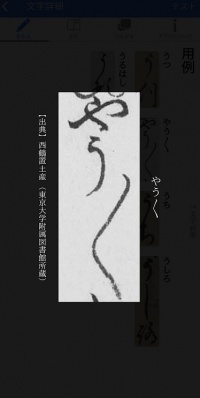 Tap "Test" at the top of the screen to see the total number of strokes in the questions.
You can choose from 10 questions, or the total number of strokes.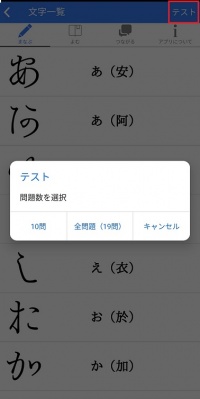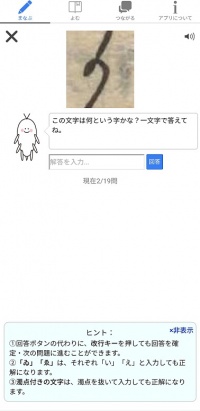 There is a 「よむ」(reading) menu at the top of the top screen to practice reading and understanding the characters you learned with books that were actually published during the Edo period.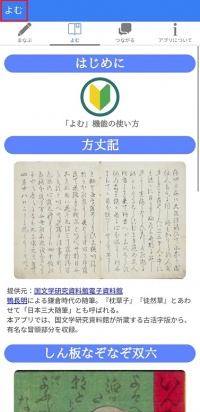 For learners of beginner Japanese, there are displays in English, making the app easy to understand 'kuzushiji' for specialized study.
Wouldn't it be a dream come true, if you were able to read letters written by warlords from the Sengoku period?
This app has an iOS version, too. (Introduction article)