This is a website that provides information to those who want to study in Japan and those who are currently studying in Japan. Here, you can find online Japanese learning materials and course information, as well as information about offices that Japanese universities have abroad.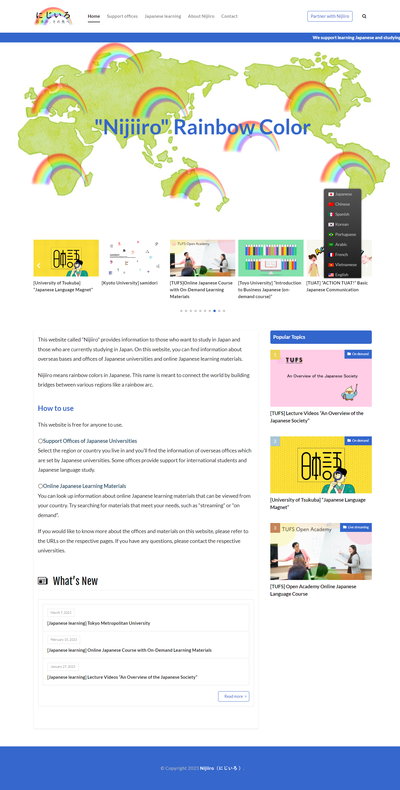 This site is offered in nine languages: English, Chinese, Spanish, Korean, Portuguese, Arabic, French, Vietnamese, and Japanese.
The Japanese learning materials and courses are offered by various universities in Japan.
Topics include grammar, conversation, pronunciation, onomatopoeia, honorific expressions, business, and caregiving.
Learn about the culture and society, while studying academic Japanese.
Levels range from beginner to advanced.
Payment is required for some courses and others are free of charge.
How to...
Select your language from the bottom right of the screen.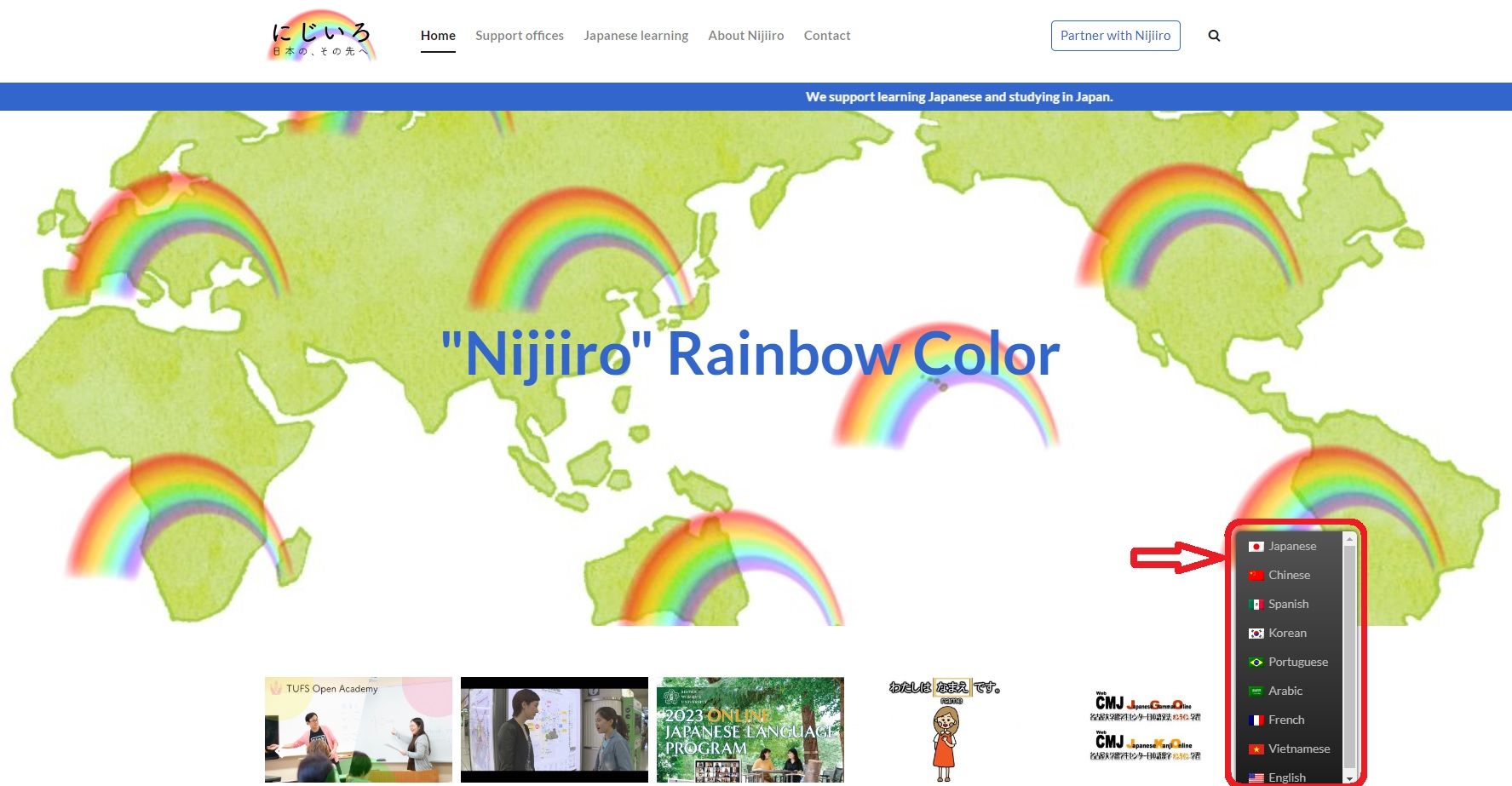 Each language has two choices of contents, Support Offices and Japanese Learning.
From the Support Offices tab, select your country or region to find international offices established by Japanese universities.Some offices have programs that support international students and Japanese language learning.
From the Japanese Learning tab, find information on Japanese learning materials to use when studying online in countries other than Japan.You can choose from On Demand or Live Streaming to find materials that suit your needs.
Now let's see how the two contents work.
Support Offices
When you choose Support Offices, you will see a map of the world.
Click the (i) close to where you live, to see the list of countries and regions. Find the nearest office and check the information.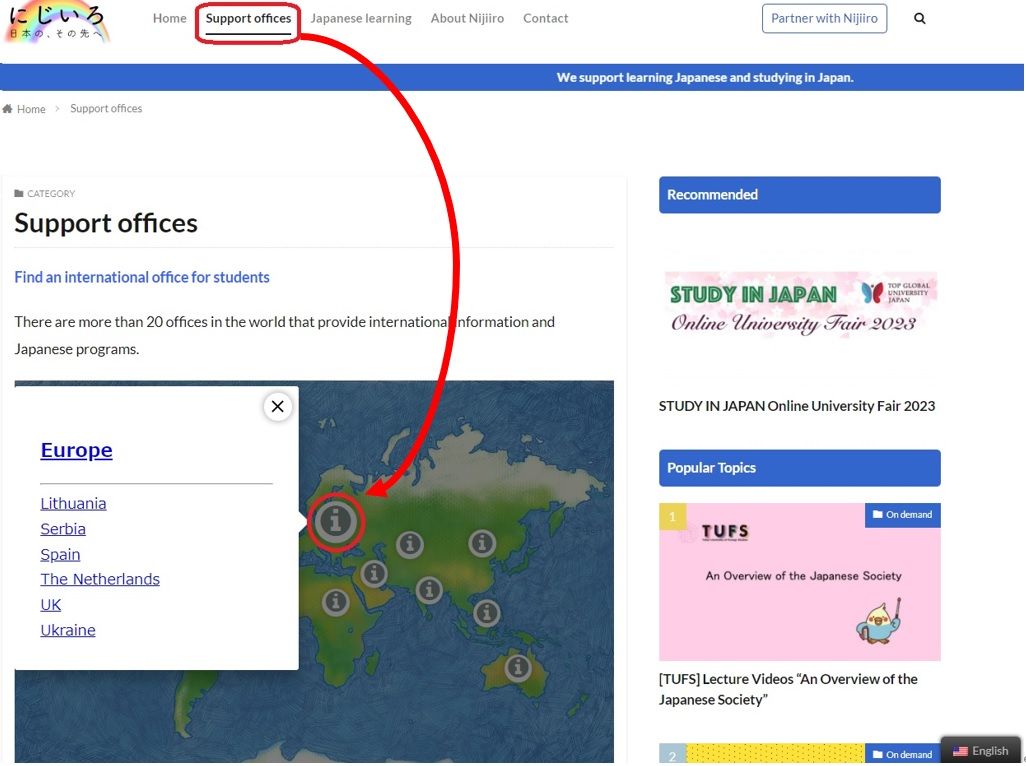 Japanese learning
Select Japanese Learning and click search box to show On Demand (free of charge) or Live Streaming (payment required/free of charge).

Click the box below that says, "Search for Japanese learning materials," for a more detailed search.

The Japanese learning materials are courses provided by various universities where you can learn academic Japanese in a structured way.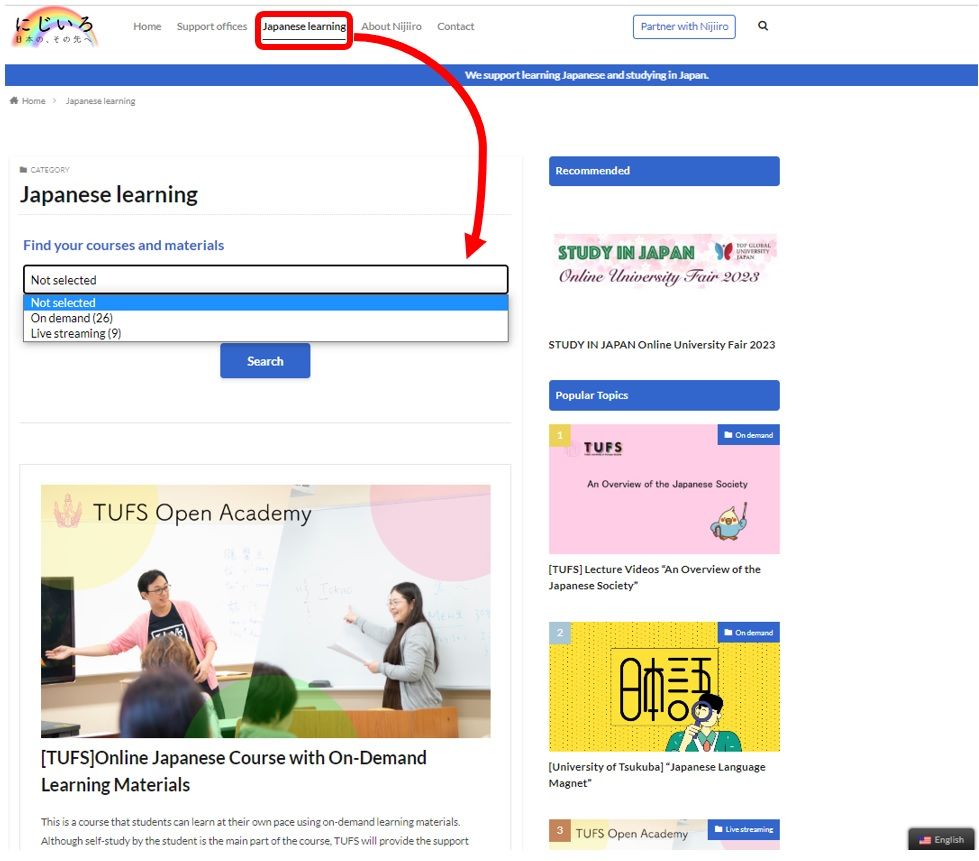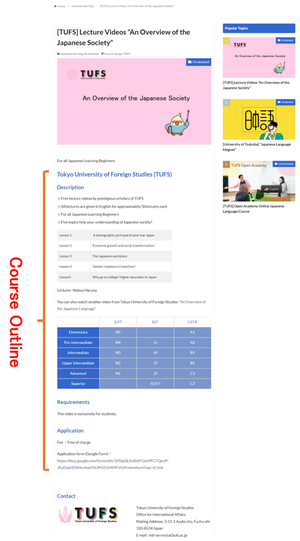 Click the course to find the course outline.
If you want to find more details about a course, you can link to its website from the URL provided on the page. Contact information for each university is also provided.
Search for information about studying abroad and learning materials/courses to meet your needs.