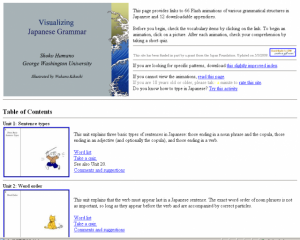 Here you can check your understanding of the main points of beginner-level Japanese grammar, through watching, listening and reading.
There are 66 units in all. Various different sentence structures are presented via flash movies.
Each unit has a movie file featuring illustrations alongside explanations and examples, a vocabulary list, and a quiz to check your understanding.
If there is a grammar structure you want to practise in particular, you can look for it via the contents page.
English explanations are presented alongside both written and spoken Japanese example sentences.
At the end of the video presentation, the numbers of other related units are shown.
As appendices, 12 PowerPoint slideshows on key grammar points, such as conjugation of verbs, Te-forms and so on, are available to download.
Recommended for self study, or for supplementary lessons.
How to...
In order to use each unit, you need to make sure you have Java script and the latest version of Flash Player installed on your computer. If necessary, please install updates.
Scroll down through the contents on the top page and you can see all units displayed, from 1 to 66. To watch the video files, click on the illustration on the left of each unit in the contents list.


For each unit, the recommended study routine is this: first, check the vocabulary, then listen and read the text as you watch the videos, then check your understanding of the content via the quiz.