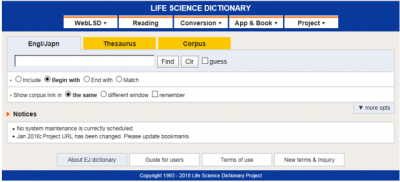 This is a useful dictionary for looking up terms in the field of life sciences such as pharmaceutics or medical science. There are lots of words from the realm of the life sciences, plus example sentences. There are some words where you can also hear audio to check the English pronunciation.
You can check the meaning of words and phrases, related terms (thesaurus) and their usage (cooccurrent expressions).
You can choose between 4 sizes for the text on the page.
You can also use the site with a mobile phone.
You can also download content for use.
The importance (i.e. frequency of use) of each word is shown using a system of stars [*].
The site reflects users' feedback, as users can report any words they come across which aren't found in the dictionary.
How to...
Enter the specialist language you want to look up in the search window, then click the search button.
If you enter an English term, the English-Japanese dictionary will automatically work and vice-versa.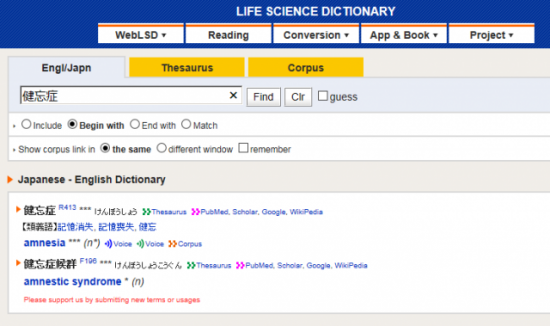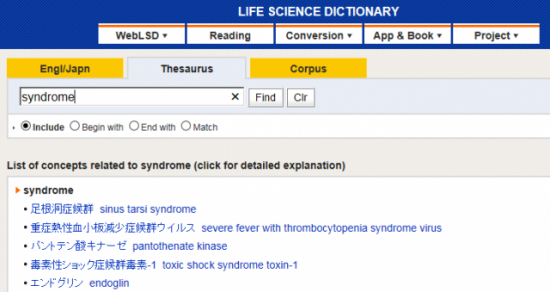 There are several search options: search for a complete match, or try a search for phrases beginning with, ending with, or just containing your chosen word.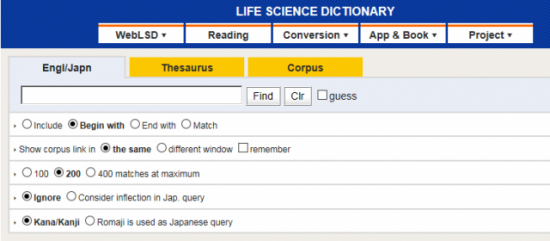 You can also search for the root of words, disregarding various inflections in Japanese such as 「~する」, 「~な」 and so on.
These contents are part of the Life Science Dictionary Project.