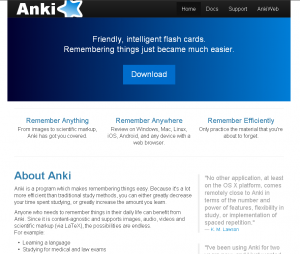 This is a flashcard tool to help you memorise vocabulary, grammar, or pretty much anything. You can manage your own review times with its spaced repetition system.
You can also use audio and images on your flashcards.
You can decide how well you know each item and how soon you want to review it again, then choose from options given by the program. Intervals between reviews gradually increase, and can be anything from several hours to several months later!
There's also a version for (Japanese) mobile phones, so you can make use of a few spare minutes in your day to memorise vocabulary, even on the move.
You can use your download version offline too, syncing both so you can use your cards on the online version even when you're away from your home PC. You must register for the online version and you need to provide your name and a password.
This site is also introduced in the "e! Kore" article For those who just can't seem to remember…. If you're interested, please take a look!