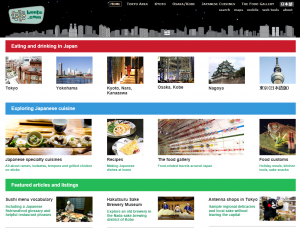 This is a site where you can find out various things about Japanese cooking. There is a guide to some restaurants and a number of recipes too.
There are plenty of photos of Japanese cuisine, so people who have an interest in Japanese food culture can even just enjoy looking at the pictures on the site.
There are also recipes for how to make everyday Japanese dishes such as 'Oyako-donburi' (chicken and egg on rice), miso soup and so on.
How to...
Let's have a look at how to make 'Oyako-donburi'.
On the top page, click on either 'Exploring Japanese cuisines's' 'Recipes'.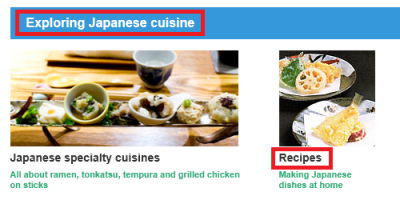 Then find 'Oyako-donburi' from Japanese Recipe Index.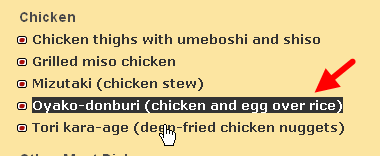 Click on 'Oyako-donburi' and you'll find a photo of the dish along with its ingredients. Underneath this is a description of how to make the dish, in English.