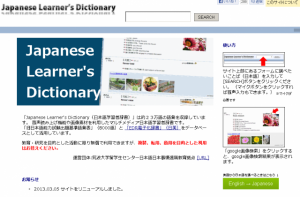 This is an online dictionary where you can look up words by entering kana only, a mix of kanji/kana, romaji or the english meaning. There is also an example-sentence search available.
You can look up words or related terms by inputting just kana, a kanji/kana mix, romaji or English.
Enter a word or sentence in Japanese or English and you can look for an example phrase that uses that word or sentence.
You can listen to audio via an automated text-to-speech system.
How to...
We'll try a search using kana only.


Where you see a speaker icon displayed, you can listen to audio.
When you want to look up words using English, click on 「English →Japanese」 button on the top page.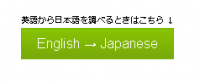 We looked up the word "winter" and the following search results came up.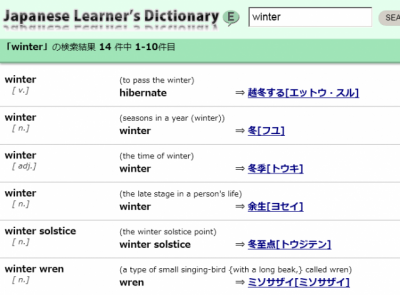 This website is one of the 'J-CAT Related Sites', found on the homepage of the J-CAT Japanese Language Test (Introduction article).