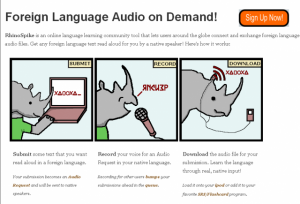 This is a community-style online language learning tool. Registered users from all over the world exchange amongst themselves audio files of their target language. If you, as a Japanese learner, submit a sentence you want read out loud, a native Japanese speaking user will record it for you and send you the audio file.
Submit sentences written in a foreign language (i.e. Japanese) and a native speaker will record them and send you the audio file.
You can listen to a native speaker's pronunciation and learn the readings of words you don't know.
You can support fellow language learners by making and sending audio files to people learning your native tongue.
You can specify your preferred settings for the audio, i.e. normal speed, standard pronunciation etc.
You can listen to audio files submitted by other users, which also makes for good listening practice.
How to...
First, you need to sign up.
On the top page you will find an icon with the words 'Sign Up Now!' written in big letters. Click there to sign up.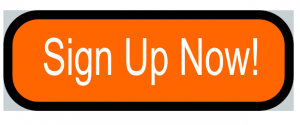 When you sign up you can choose the display language you would prefer.
You can choose from English, Czech, Danish, Spanish, Greek, French, Japanese, Dutch, Portuguese and Chinese.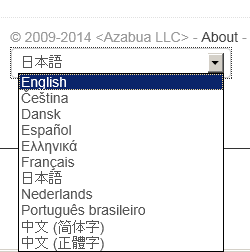 We tried signing up too.
You need to enter a user name, password and email address.
Once you sign up, the next time you see the top page it will appear as in the screenshot below.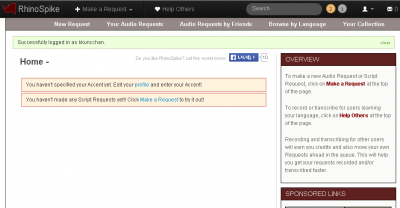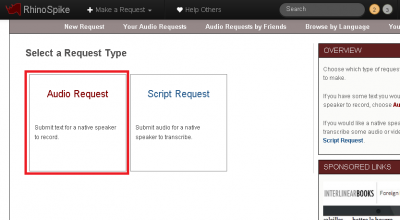 Click on this menu button when you want a piece of writing made into an audio file for you.
The following screen will appear.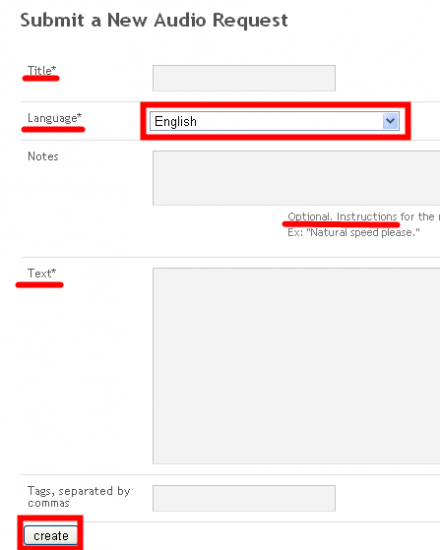 Here you should write the title and the language you want recorded for you (this is the language in which the sentence is written), then enter your piece of text and push the button marked 'Create'.
In the section marked 'Notes' you should write any requests you have, such as "Read aloud at normal speed", or "In standard Japanese dialect".
We tried entering and submitting a sentence written in English.

It didn't take too long for 2 audio files to be sent to us.


The underlined sections give you pronunciation information for the person who provided the recording.
Click on 'Listen' to hear the pronunciation.
The audio file will start up, so you can listen to your sentence read aloud.

As we registered as a native Japanese speaker, we should at some point receive requests to read a sentence in Japanese for someone.
If you want to see how many requests have come in, look to the upper of the screen and click 'Audio Requests by Friends'.

The list of sentences waiting to be recorded will appear.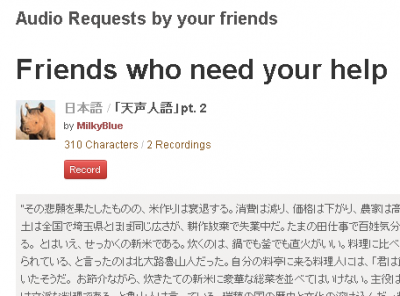 As well as this, you can see the current situation for audio files in each language.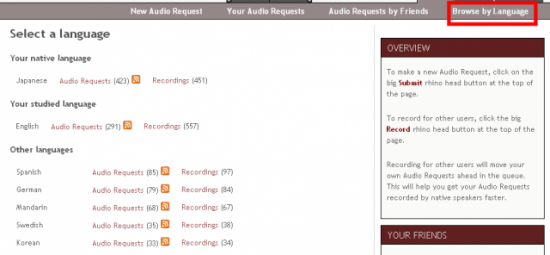 Even if you haven't sent in a piece of writing you want recorded, if you are a Japanese learner, you can choose any one you like from these and maybe use it as listening comprehension material.

This site was recommended to us via the eな Information station.