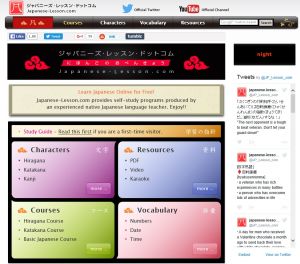 This is a useful website for any learners who are thinking they want to begin studying Japanese. You can study kana/kanji notation and some conversation in the form of simple greetings. The site is all in English.
You can check what you have learned about katakana and kanji through drills.
There are PDF files you can print out to practise writing Japanese kana/kanji.
There are detailed explanations about romaji notation.
Some simple greetings and conversational Japanese are introduced, and you can listen to audio. There are drills to check your understanding too.
A list of basic vocabulary is introduced on the website.
How to...
The contents available are "Characters", "Conversation", "Vocabulary" and "Resources".

Hiragana, katakana, kanji and romaji are included in the "Characters" section.

The site's drills and PDFs are a distinguishing feature.

For example, after you have studied all of the hiragana you can take a quiz posted on YouTube to test your knowledge.
There is a PDF file of the Japanese syllabary too, so you can conveniently print it out and hang it somewhere for easy reference.

The drills for studying katakana and kanji include 3 types of flashcards.
You can also listen to audio. Move the cursor over the character to hear it pronounced.

For those who would like to do some writing practice, there are handwriting practice sheets complete with grid lines provided on printable PDFs.
There aren't too many flashcards for each drill, so you can finish them even if you don't have much time to spare. Or, you can stop half-way through if you like.

The hiragana course is divided into three categories: "Reading", "Writing" and "Typing". And when you're ready, you can take quizzes to confirm what you've learned.

There are some simple explanations about romaji, but no drills.
You will find a romaji spelling chart, though, which is convenient.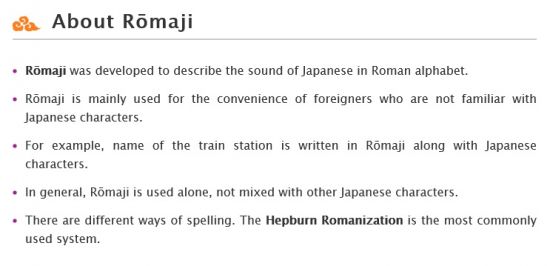 There are 10 conversation lessons.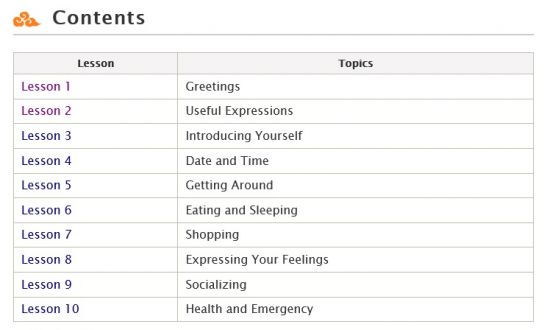 As with the character drills, there are 3 types here too, and you can listen to audio.
Study each lesson first, then check your understanding using the drills.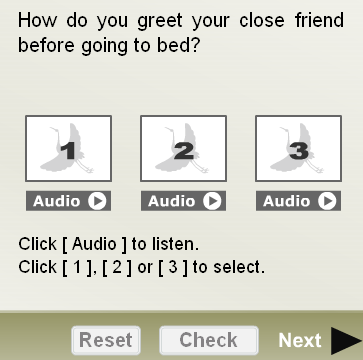 In this drill you have to answer questions about things such as when you should use a particular expression, what expression you should use to reply to what A says and so on.
The contents here are all things that you can use easily once you've understood them, so they'd be handy as some survival Japanese, if you're deciding come to Japan in the future.
The vocabulary lists include numbers, dates, time and country names.
The numbers go from single digits up to big numbers, with some important notes on the readings included too.
How to read decimal points and fractions, plus other convenient kinds of number-based information,
i.e. 500円割引 (500 yen discount!), are also introduced here for you.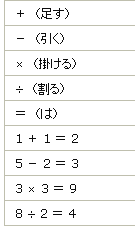 In the 'Resources' section, aside from the printable PDF files you can also find MP3s of conversations etc.

All in all, this is a well-ordered, convenient website for people thinking they might want to start out by trying a little Japanese study on their own, or for those who have trouble with Japanese numbers or who want to practice using flashcards to remember the kana.