Japanese Lessons with Maggie
On this website, the webmaster Maggie-sensei explains - in detail, and in a way that's fun and easy to understand - a range of different topics to the Japanese language, from Japanese slang to general vocabulary, expressions, grammar and even aspects of the culture. The photographs of the dog characters give the website a real streak of originality.
---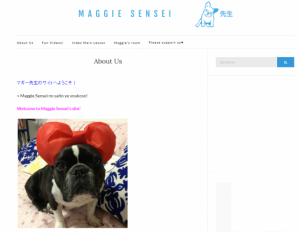 You can study Japanese with the feeling that you're reading a blog.
Maggie-sensei explains, in detail, colloquial language, grammar and more, with example sentences in Japanese (both kana/kanji and romaji) and English.
As well as various topics related to the Japanese language, you can also find out about Japanese culture.
The site as a whole, like its main character, exudes a fun, cute atmosphere.
---
How to...
---
The contents cover a lot of ground.
You can choose by looking through the titles of articles under 'Index Main Lesson'
---

---
Index Main Lesson
---
If you click on 'Index Main Lesson' you'll be shown a list of lesson titles . You can get a range of detailed information such as explanations of words and expressions, usage examples, cultural information, introduction of related vocabularys and so on.
---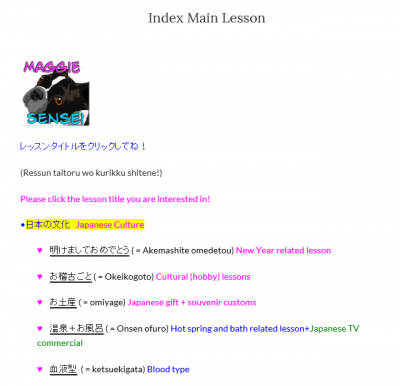 ---
Along with the title and article Japanese writing is provided in both kana/kanji and romaji notation, plus there are English translations so students who understand English can get hold of information, regardless of their Japanese level.
---
When you search for a lesson title from the index, you'll find they are arranged according to fields/categories.
Look for the category names in yellow in the index, and try searching for a subject in which you're interested.
---

---
We tried clicking on the 'Blood Type' lesson, found under the category 'Japanese Culture'.
---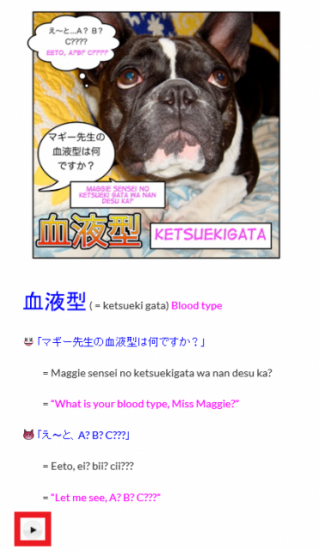 ---
Click on the Play button and you can hear the spoken conversation part in Japanese.
After a simple conversation and example phrases have been introduced, explanations of the language, and examples of how it is used are presented in more detail.

In 'Culture Note' too, there are careful, detailed explanations.
---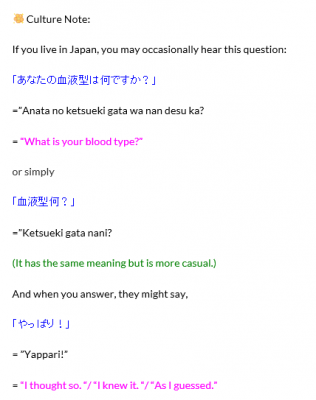 ---
There are plenty of example sentences on the subject of blood types to refer to.
---
Related vocabularys and phrases are also introduced.
---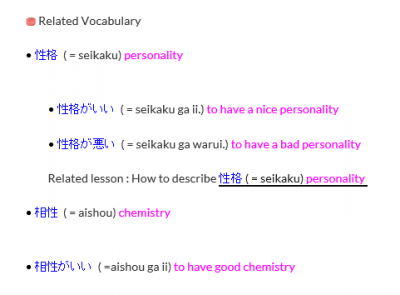 ---
You can also choose theme of 'Index Main Lesson' from the category on the right of the screen
---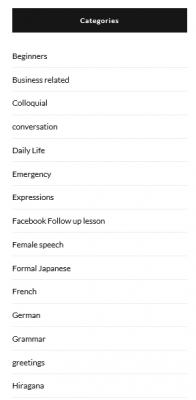 ---
As well as this, other contents include some interesting videos.
This seems to be a good website for learners who want to learn popular/fashionable Japanese words and phrases and their usage, or about particular topics, that might not appear in the usual textbooks.
Last update 2018.05.21
Search