This site was created for foreigners living in Japan.
You can learn about everyday Japanese conversation through videos and pick up the words and expressions you need to know.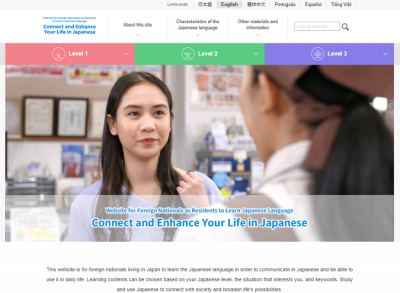 You can learn enough Japanese to communicate and live your daily life through scenes set to your level.
Select the content at the level that best fits your level of Japanese, situations you want to cover, and key words.
The video content is easy to grasp, with abundant and clear scenes. The videos are compact and focused for learning.
The conversations come with script, and you can choose a Romaji setting.
It supports six languages: Japanese, English, Chinese, Portuguese, Spanish, and Vietnamese.
You can download useful words as a PDF.
The site is simple and easy to use. You can learn on various devices, including tablets, smartphones, and computers.
Start by checking details on your recommended environment.
How to...
The top page can be moved to the contents by selecting the scene or your level.
When you want to search by level, click the button at the top.

It's convenient because you can see the things you can learn from each scene, as you scroll.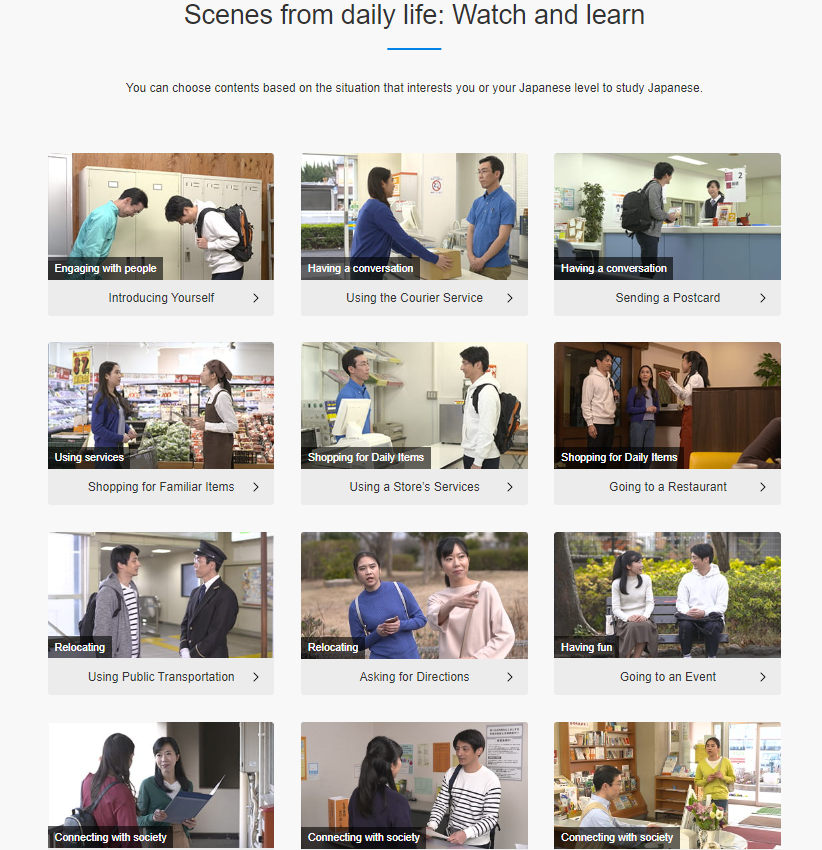 As you scroll, you can view 日本語の特徴 (Characteristics of the Japanese Language) and その他の教材や情報 (Other Materials and Information).
Under 日本語の特徴 (Characteristics of the Japanese Language) you can find nihongo no oto (Japanese Sounds), nihongo no moji (Japanese Characters), and nihongo no katachi (Japanese Structure). These are useful not only for those who are just starting out, but also for those who want to review because it teaches the basics of Japanese.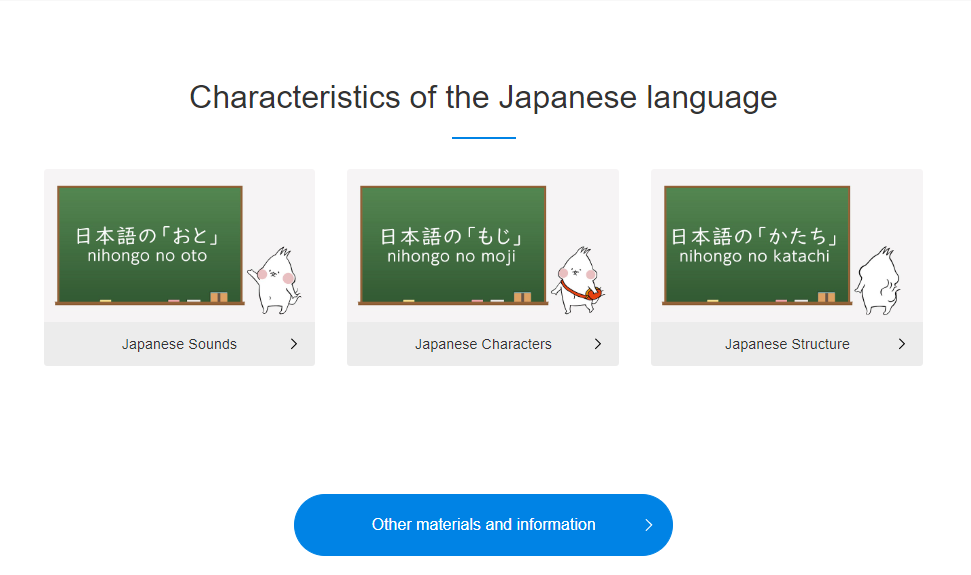 Let's take a look at Scene 4, 宅配便を利用しよう (Using a Courier Service).
Keywords to help you with what you can do in this situation are provided at the top.
You can choose whether to display the video in Japanese only or with Romaji.
Select a language, if you need a translation.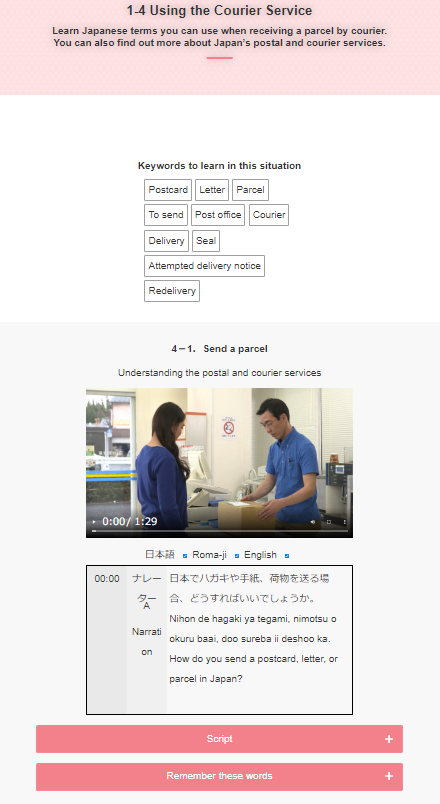 In the second part of Scene 4, Onimotsu desu (This is a parcel for you), you can see the interaction when receiving a parcel.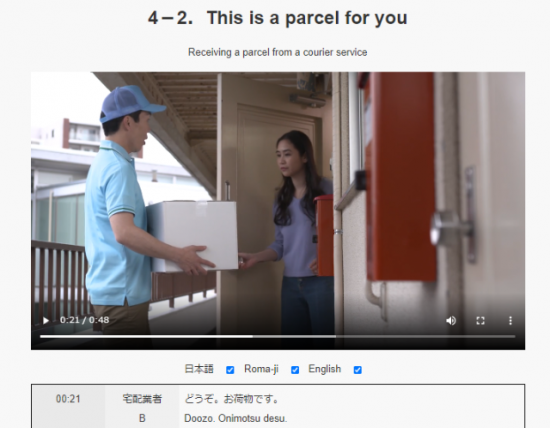 Following the video, you can find the script and list of words that appear in the video.
Each phrase comes with a short video, making it useful for checking.
You don't have to move to another page to see the next video. Just scroll.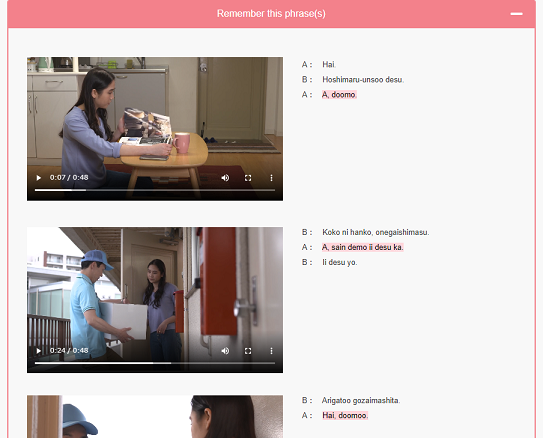 When you scroll to the end of each scene, you can find a video that summarizes the grammar and sentence patterns, along with 役に立つことば (Useful Words) and 役に立つ情報 (Useful Information).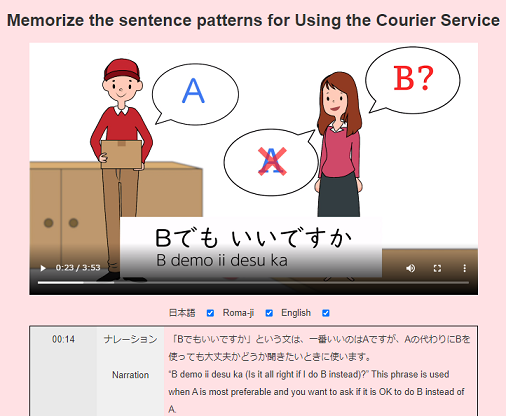 Under 役に立つことば (Useful Words) is a summary of words often used in the situation.
For example, in 宅配便を利用しよう (Using a Courier Service), words such as hanko (seal) and shuniku (ink pad), and the difference between myoji and full name are introduced.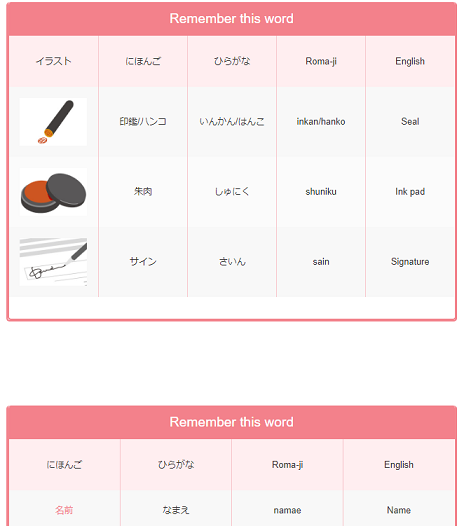 Under 役に立つ情報 (Useful Information), you can find links to websites relating to the scene that are useful in real life.
The link in 宅配便を利用しよう (Using a Courier Service) takes you to a guide showing you how to get your package if you've received a non-delivery notice.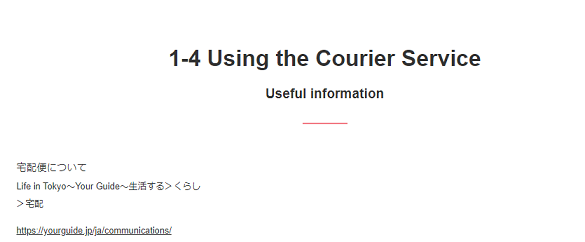 This site introduces specific expressions and words that you need to know in certain situations and lets you choose and learn about scenes in your daily life that you expect to encounter in the future, giving you a wide range of information related to these scenes, making it very useful in your everyday life.
This site was recommended to us via the eな Information station.