This website was created in conjunction with the NHK World-Japan radio program (supervised by The Japan Foundation Japanese-Language Institute, Urawa).
Enjoy learning phrases and grammar useful for traveling in Japan while watching anime and videos.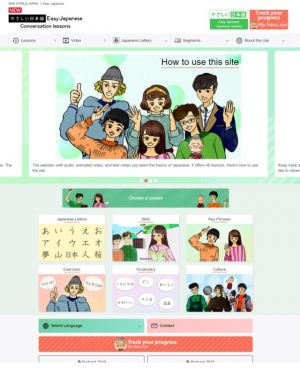 This site is offered in 21 languages.(Arabic, English, Russian, Urdu, Bengali, French, Korean, Spanish, Vietnamese, Burmese, Hindi, Persian, Swahili, Chinese(simplified), Chinese(traditional), Indonesian, Portuguese, Thai, Turkish, Ukrainian, Japanese)
For the animated conversation skits, you can choose to see subtitles in your language or Japanese, or not at all.
You can download audio and PDF of conversation skits and grammar explanations for free.(Turkish and Japanese are available in PDF only. Chinese(traditional) and Ukrainian are not available.)
There are videos explaining grammar and interesting tourist information about Japan. (Not available in Chinese(traditional) and Ukrainian.)
This site is also smartphone friendly.
How to...
Scroll to the bottom of the screen and choose your preferred language from Select Language.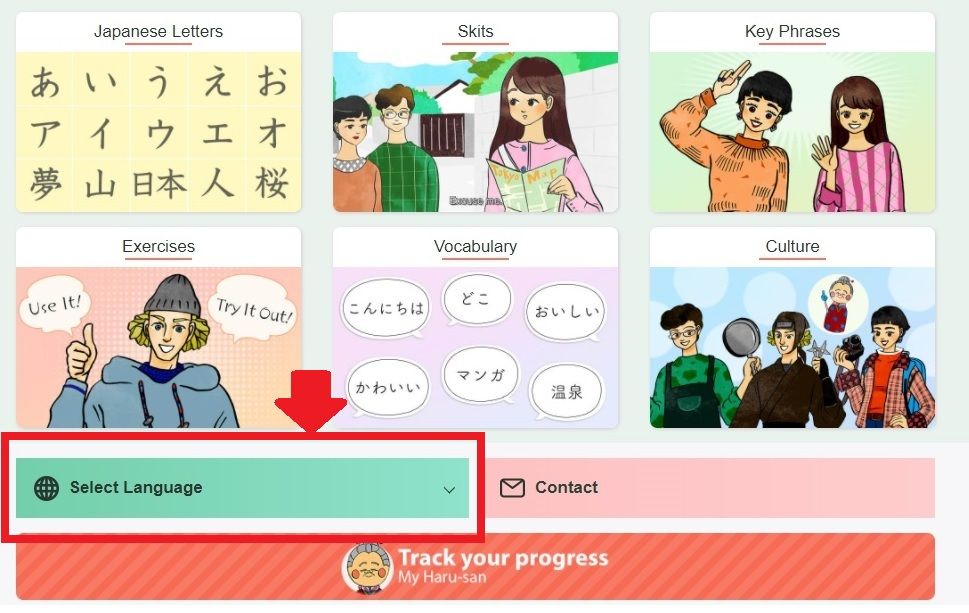 Click Choose a Lesson to display all 48 lessons.
Each lesson has a 30-second animated conversation skit and is a connected story from lessons 1 to 48.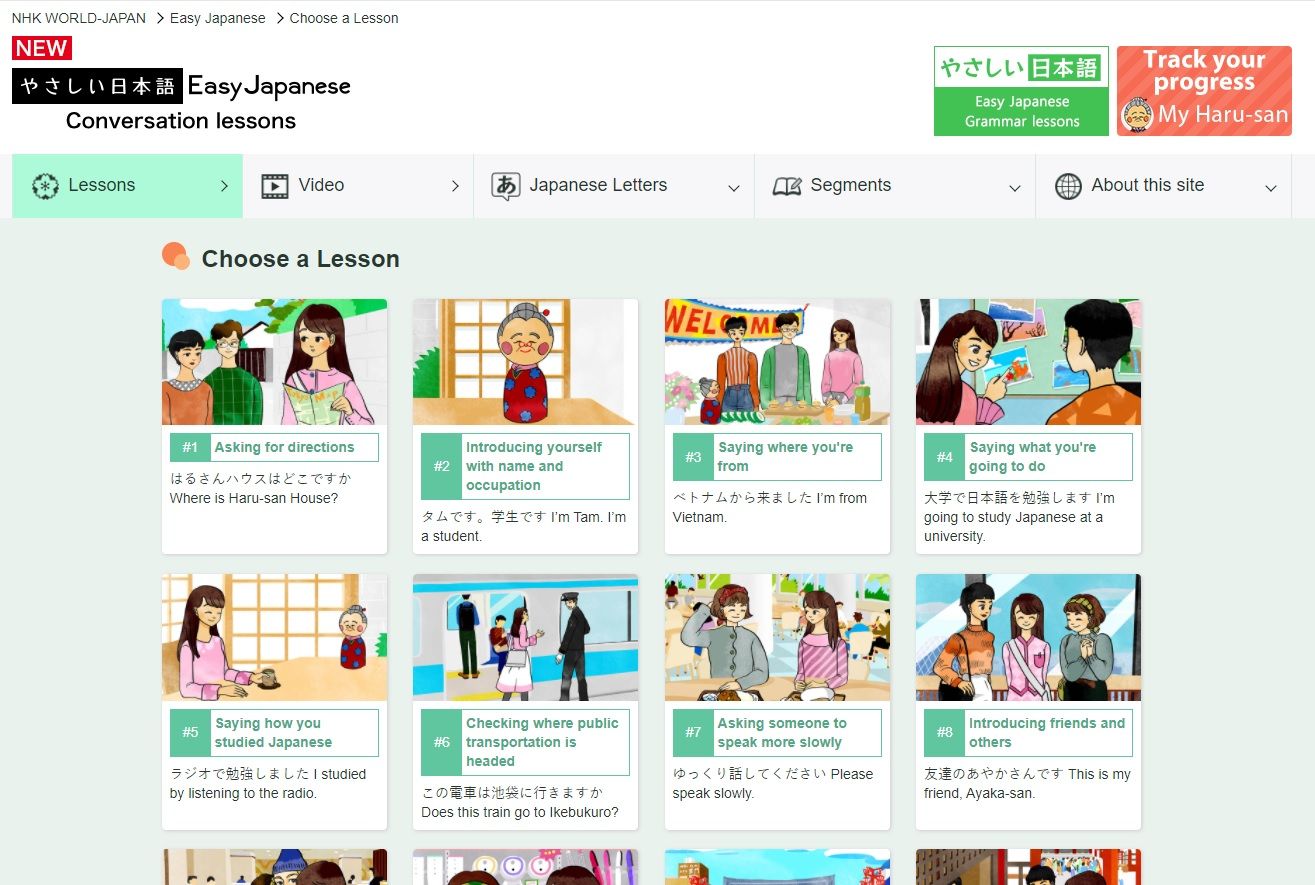 The story begins with Vietnamese student Tam searching for "Haru-san House", a sharehouse in Tokyo.
Join Tam and enjoy her simulated experiences and imagine going out to various places in Japan.

When you choose the lesson you want to see, it will jump to the video page below.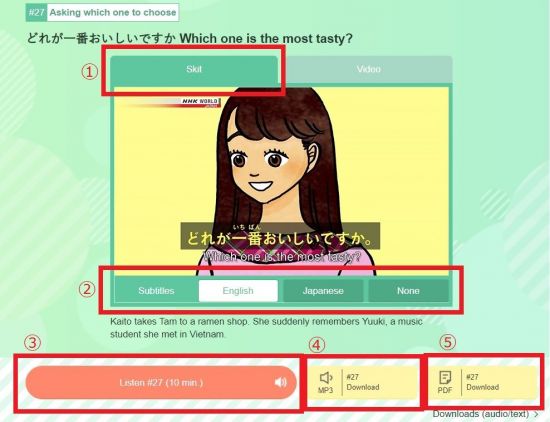 ①Click Skit to see the animated conversation skits.
②In the conversation skits you can choose subtitles in your language, in Japanese (romaji), or none.
③Click Listen #27 (10min.) to hear 10 minutes of audio.
※Along with the conversation skits, you can listen to explanations of grammar and culture in your language.
④Downloaded the audio for free from the MP3 tab. (Not available in Chinese(traditional), Turkish, Ukrainian and Japanese.)
⑤Download the audio-compatible text for free from the PDF tab. (Not available in Chinese(traditional) and Ukrainian.)
Click the Video tab next to Skit to see the video clips.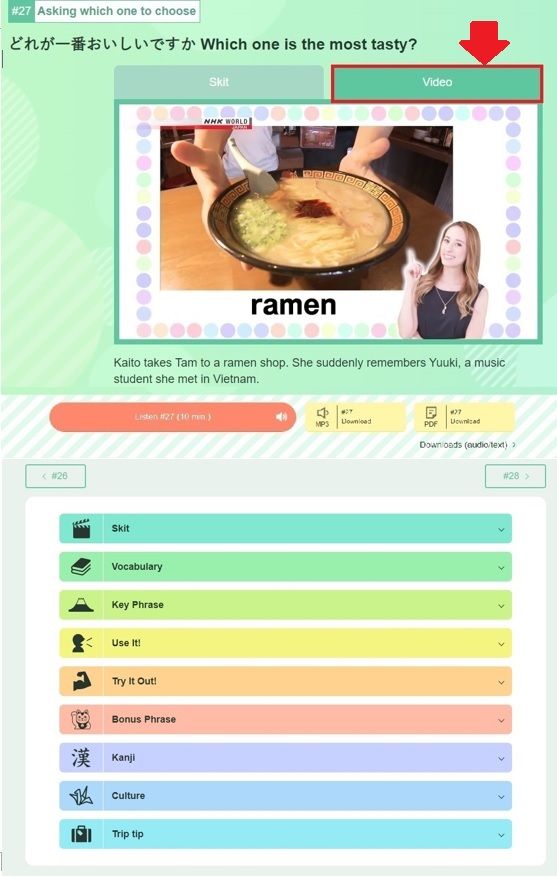 The video clips have 3-minute videos explaining grammar and fun tourist information in addition to the conversation skits.
You can listen to the commentary part of the video clip voiced over in the language of your choice.

Below the Skit and Video screen, you'll find tabs with labels such as Skit, Vocabulary, and Key Phrase, where you can learn related Japanese words and phrases, along with Culture and Trip tip, with summaries of living, sightseeing, gourmet and pop culture, and useful information for traveling in Japan.

You can also see the categories listed under Segments.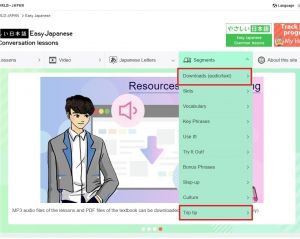 Find Segments on the smartphone screen here.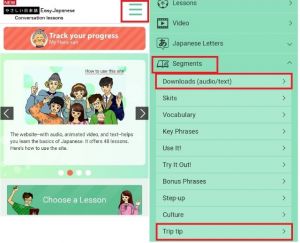 For example,
Click Downloads (audio / text) to see a list of audio and PDF files.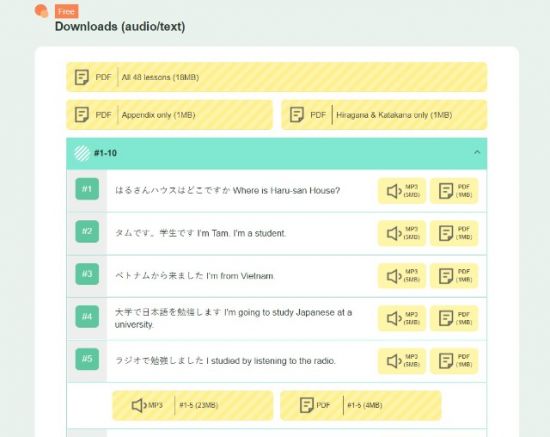 Click Trip tip to see the list there. (Lists are in English only.)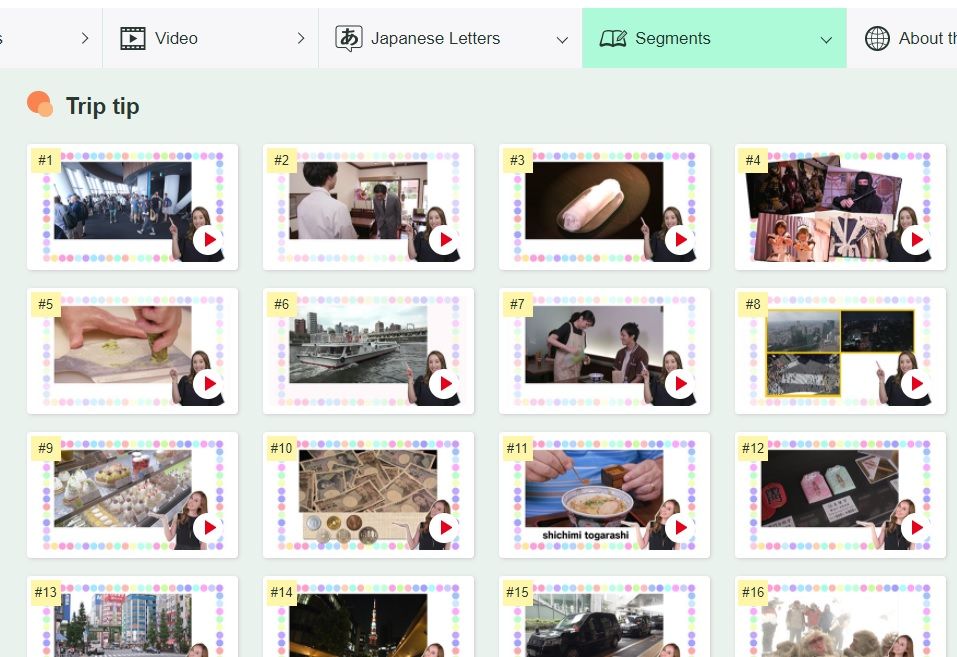 Trip tip has a lot of interesting videos so you can enjoy learning while feeling like you're traveling in Japan.
Check out NHK World-Japan's Easy Japanese Grammar Lessons (Introduction article), too.

Recommended for those who want to learn with a focus on grammar.