This is a free online course based on the Japanese language course book IRODORI Japanese for Life in Japan.
Through videos and a variety of illustrations and audio, you can learn the Japanese you need in daily situations in Japan.
There is also an abundance of practice questions for training in areas where you feel you need more practice or lack confidence.
Registration is required (free of charge)
It is designed to make learning easy on a smartphone, too.
You can study conversation, grammar, kanji, vocabulary and more, comprehensively.
Challenge yourself to communication using Japanese with drama-type videos.
Choose the lessons and patterns you want to practice in the practice exercises.
You can learn about life in Japan through videos and photos.
On My Page, you can view your learning progress at a glance.
You will receive a certificate of completion after you pass the test.
You can select dark mode.
You can choose practice contents on an Android, too. If you download the app, you can use it offline, as well.
How to...
To use the online course, you need to register as a user (it's free).
You can easily register as a user from Facebook or Google. You can also click on New User Registration and fill in the required information in New Registration.
Click 'Next' to receive a confirmation email from IRODORI to the address you entered. Click the URL in the email that you received to complete your registration.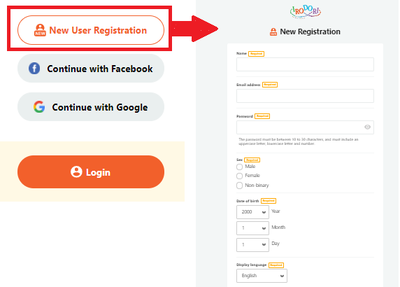 Let's take a look at the Elementary 1 (A2) course!
There are nine topics with a total of 18 lessons.
The course is divided into three sections: Study, Practice, and My Page.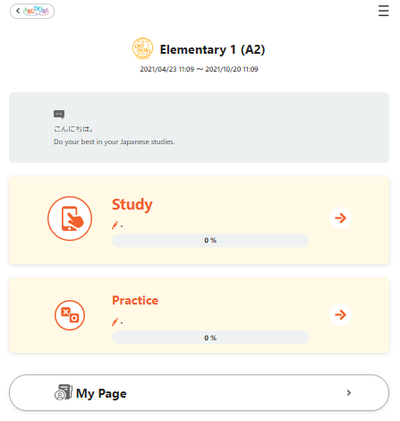 ◆About the Study contents◆

Each lesson has several Can-do targets, with the steps, 1) Know Your Goals, Prepare, 2) Listen/Read, Recognize, 4) Try Using, and 5)Can-do Check.
Follow the steps in order to study Japanese comprehensively.

Here we'll introduce 4) Try Using that includes, 'Check example conversation', 'Speaking practice', and 'Try speaking'.

'Speaking practice' lets you practice while looking at the speech bubbles. You can select ON/OFF for sound and script.

As you can see in the image below, the sound and script will disappear, depending on your choice, so you can check to see what you have learned and use it to talk about yourself.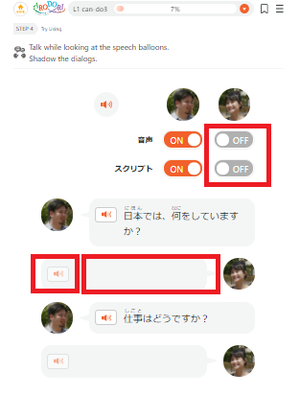 The next step is 'Try speaking'. You can practice as if you are actually being spoken to.
First, choose the person you want to practice as.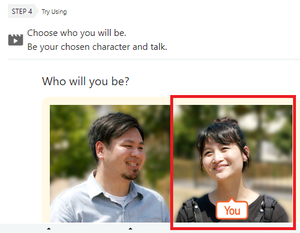 The other person will talk to you and when you see 'You' as in the red frame, it's your turn to speak.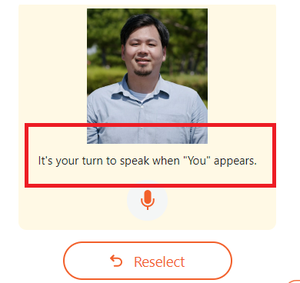 If you are using Windows, you can record your voice and the other person's voice by clicking on the microphone icon below the image.

On a smartphone (Android) the following screen will appear and you can click on the camera symbol to take a picture of your face and record your voice with your own face.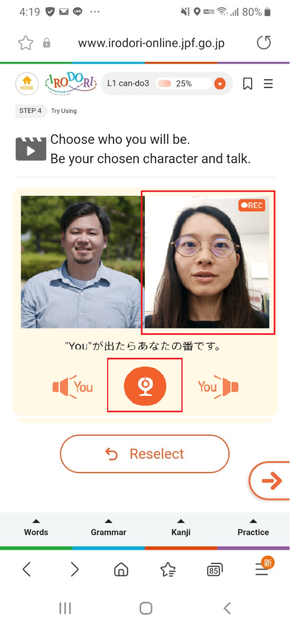 You can listen to it later to check your own speech.
This lets you practice conversations by yourself.
(Mac and iOS do not support recording.)
When you find that you don't understand a word, grammar, or kanji, or when you want to find out more about it, just click on Words, Grammar, or Kanji tabs at the bottom of the screen to display lists of what was covered in the lesson and explanations.
You can check it anytime, anywhere.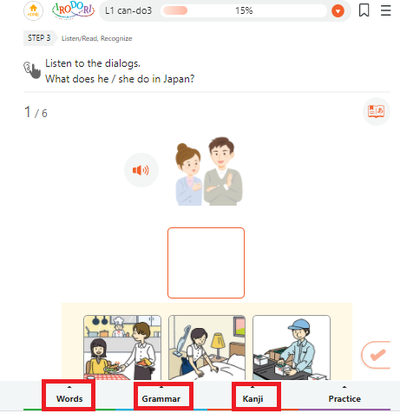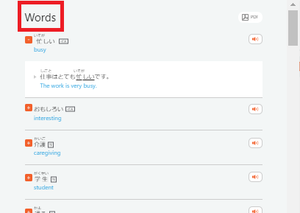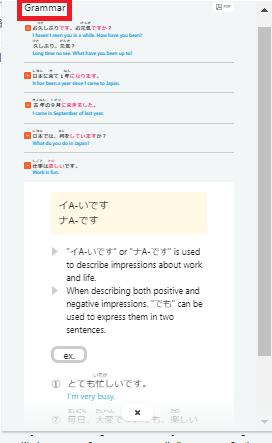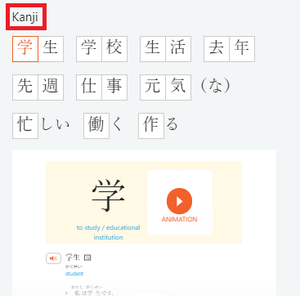 ◆About the Practice contents◆
(You can access Practice from the 'Practice' tab on the lower right corner of the Study screen.)
Open Practice, to see the 18 lessons.
Choose the lesson you want to practice and move on by clicking the arrow at the bottom right.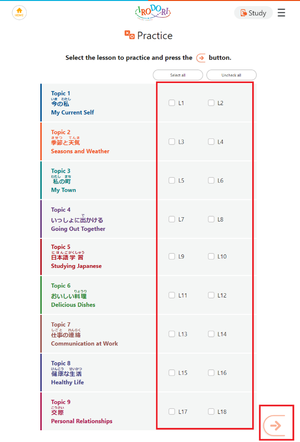 When you see the choices for Words, Kanji, Grammar, and Expressions, select a practice method from each item that you want to use.
If you check 'incorrect questions', you can practice only where you made mistakes, which makes it convenient.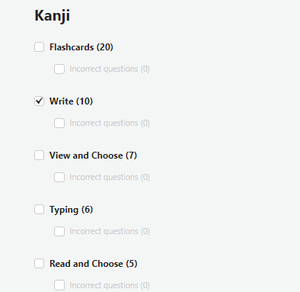 As you can see in the image below, you can also practice writing characters using your finger or mouse.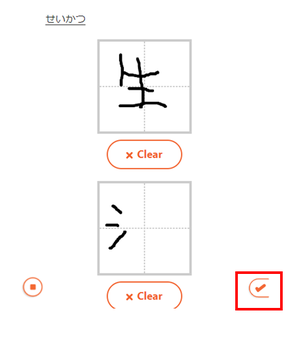 After you write the character, click check (✔) to see the correct character in yellow, in the background. If you think you got it right, click the circle. If you think you need to practice more, click the X.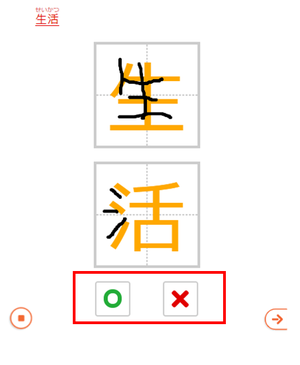 ◆About the My Page contents◆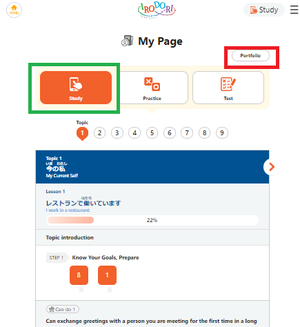 In Study shown in the green box, you can check your learning history and progress and in Portfolio you can look back on your learning whenever you want to.
Finally, here are the contents that you can find from the three lines in the upper right corner of the screen.
If you click the area shown in the red box below, you can download materials for free (PDF) or change settings.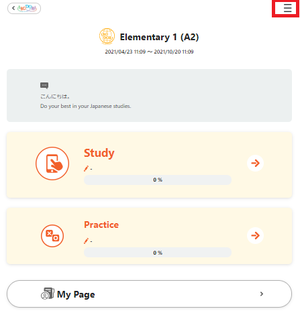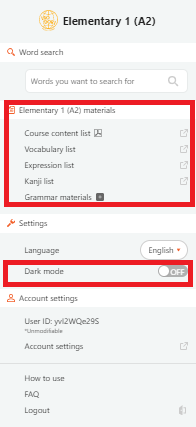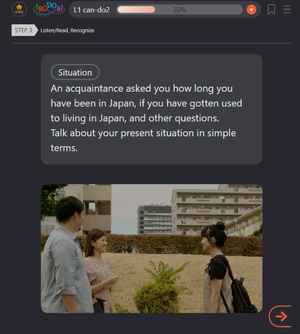 As of October 2021, Elementary 1 (A2) and Elementary 2 (A2) are available.

Although only English is available right now, courses will be available in Chinese, Indonesian, Khmer, Mongolian, Myanmar, Nepali, Thai, and Vietnamese as well, in the near future.