This is a video distribution site for self-study developed by the Center for Distance Learning of Japanese and Japanese Issues, University of Tsukuba International Student Center, compliant with 'SITUATIONAL FUNCTIONAL JAPANESE.'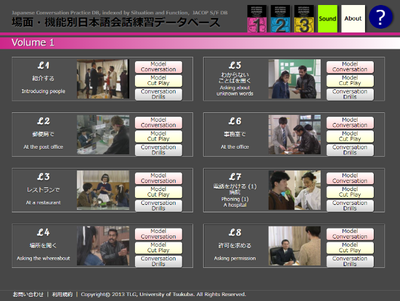 Through videos and scripts, you can learn conversations for different situations and functions that international students and researchers might encounter at Japanese universities and research institutes.
The model conversation videos come with a choice of Japanese (kana or kana/kanji) or English subtitles. Scripts are available, too.
There are contents that are cut out of the videos in short segments as well.
There are also drills for practicing conversations.
How to...
There are drills for each scene, from L1-L24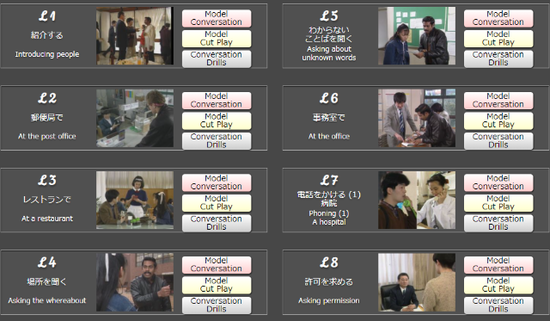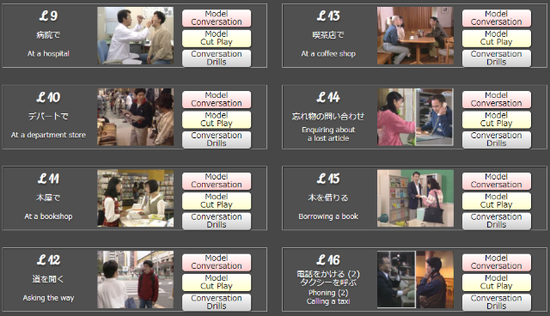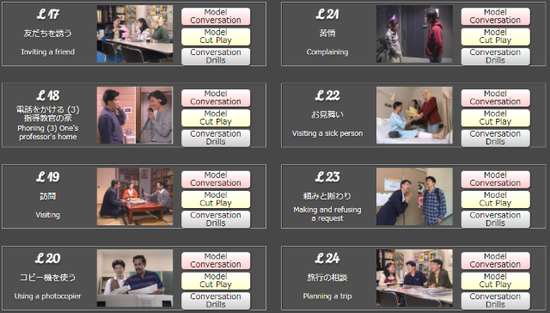 Click the icon 1, 2, or 3 at the top of the screen and select the lesson you want to study.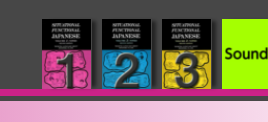 Each lesson comes with the three videos, 'Model Conversation',' Model Cut Play', and 'Conversation Drills.'

'The Model Conversation' is set with not subtitles by default but there is a choice of Japanese (kana only or kana/kanji mix) or English subtitles.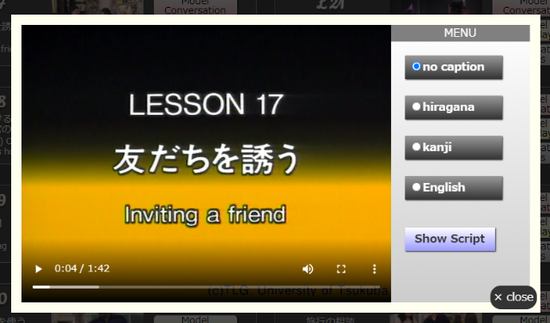 You can display the script while watching the movie, too.
This is only in Japanese (kana/kanji mix).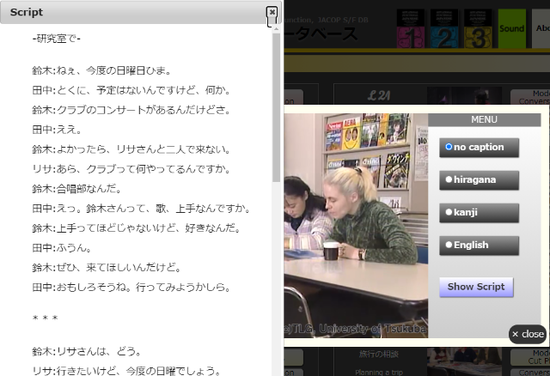 In 'Conversation Drills', you can practice similar scenes with situations using different characters.
Select the scene you want to study. These also come with script display.

As with the Model Conversation, the stereo audio function can play different voices on the left and right side of your earphones to let you take turns practicing with the different people. (If you're not able to alternate the voices between right and left, please check your device settings.)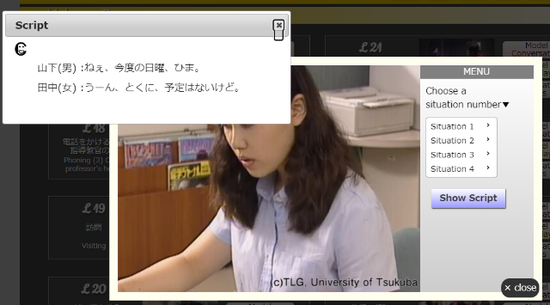 'Model Cut Play' is a video that cuts out a few seconds of the Model Conversation at a time to show you where the natural flow of the conversation is.
Once you've learned the expressions, understanding these points can help you have a more natural conversation.
Click 'About' to check the operating environment.