What can you do?
You can study by listening to the tutor's instructions in English.
It has an easy to use design that looks nice.
You can study with a kana chart, stroke order animations, grammar, and vocabulary.
If you can answer all the free lesson's quizzes, you can try out the Super Quiz and receive a badge.
How to...
In the Beginner Level, there are free lessons and lessons that require money.
The first 4 chapters (5 lessons each, 20 total) are free for studying.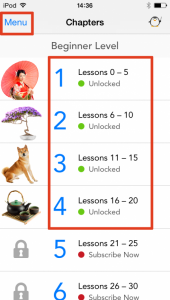 Tap the "Menu" button on the upper left to open the menu.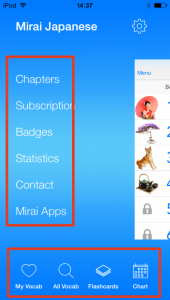 From the vertical menu, you can see the Badges you've earned, view your statistics and more. From the horizontal menu at the bottom of the screen, you can see your vocabulary list (My Vocab), see all the vocabulary from all the lessons (All Vocab), and "Flashcards". "Flashcards" have info about each vocab word, like what lesson it's from, how to display them, the voice to choose (male or female) and other detailed settings.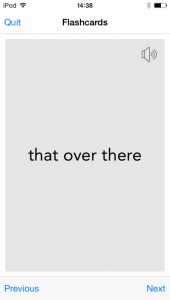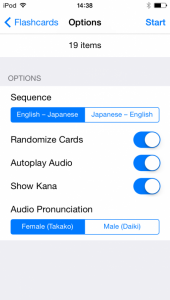 The "Chart" has hiragana and katakana.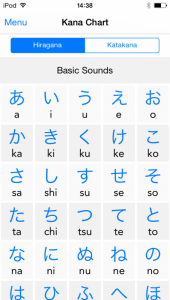 If you tap a kana, you can hear how it's pronounced and see an animation of the stroke order. If you tap "Writing Practice", you can do tracing practice.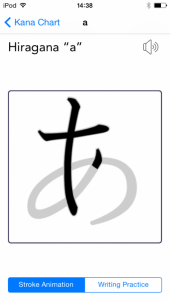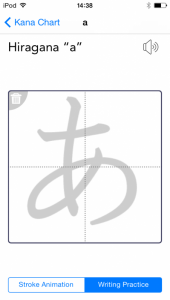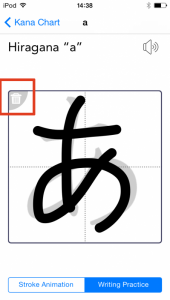 By tapping the Information icon to the right of each lesson's title, you can see a simple summary of that lesson.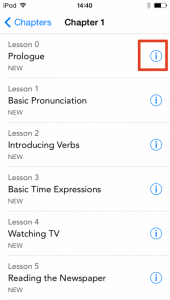 The lessons are broken up into the following contents.
・Tutor
Tap the "Play" button to start the lesson. There's an English script and audio, if you scroll on the script, the audio will stop.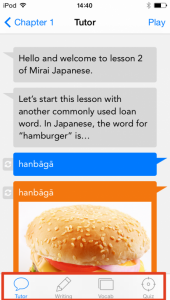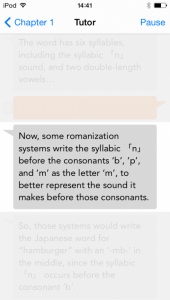 ・Writing 
The kana are explained in order from "あ・ア"
There are stroke order animations as well.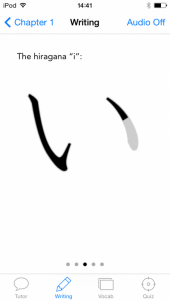 ・Vocab  
You can see the vocab that was featured in the lesson, as well as see a picture of it and listen to an audio clip of the pronunciation (male/female voices).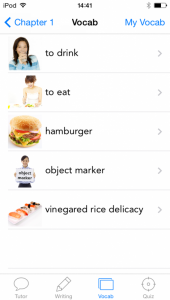 ・Quiz   
After every lesson, there is a 5 question multiple choice quiz, get a good score and the penguin character will pop up and a cute tune will play.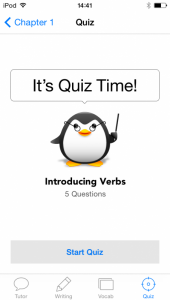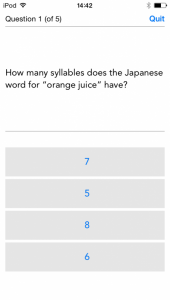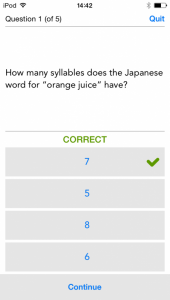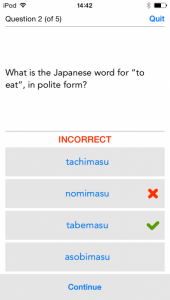 Finish the quiz and the lesson will end.
After finishing all the lessons, the "Super Quiz" will become unlocked and you can challenge the 20 question quiz.
If you answer 10 questions or more correctly on the "Super Quiz", you can get a sushi badge.
On the top right of the Menu screen, in the "Settings", you can change the font size, speed of the audio instruction, and reset the scores of the quizzes.
It could be very fun to try and collect all the badges!