Can-do
Write the hiragana and katakana that you have learned by tracing the stroke order.
You will learn the correct stroke order.
You will learn the characters by writing them over and over again.
How to...
Top page. First set your own preferences, then tap the Start button.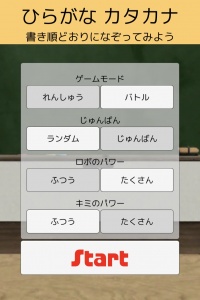 Tap the OK button to start.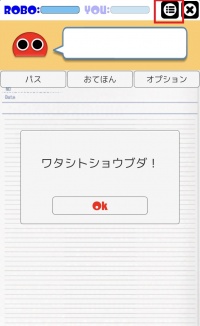 To select a kana range to practice, tap the area within the red border.
Then the screen below will be displayed. Enter a check.
You can switch between hiragana and katakana on this screen.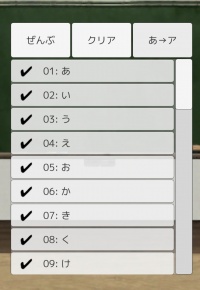 Robot icons and numbers are displayed in the practice mode. Follow the numbers and the robot movement to trace well.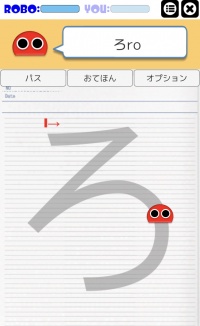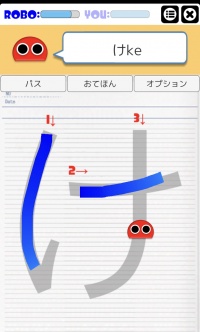 Use 「パス」(pass) in the green frame to skip that kana.
「おてほん」(example) will show a red line according to the robot's movement.
You can make detailed settings in「オプション」(Options).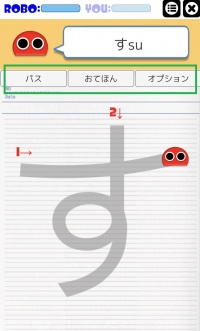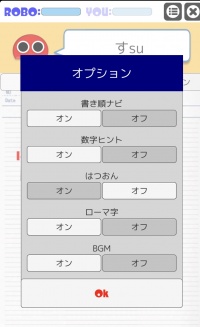 Trace the strokes slowly and carefully with your finger.
The stroke order recognition engine will judge whether the stroke order is correct or not.
It will still be recognized even if you slide away from the guideline so practice with confidence.
If your stroke order is mistaken, you will not be able to go further.
This app was developed for children writing kana for the first time, but it is also useful for learners of Japanese.
This app has an android version, too. (Introduction article)