Can-do
You can practice by focusing on the 'kana' that you repeatedly make mistakes on.
Your progress and quiz results are displayed in detail.
You can practice handwriting while looking at the model.
How to...
Do you ever feel like you want to practice just the kana that you make mistakes on time and again?
If this sounds like you, the quiz features in this app might help.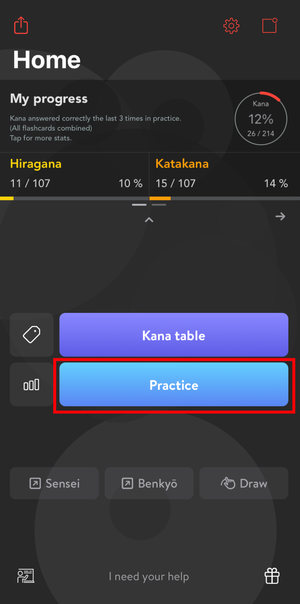 After you take the quizzes a number of times, you can narrow down the choices by looking at your 'Least mastered (score)' sorted by lowest score and 'Least mastered (streak)' sorted by lowest consecutive times you got a letter correct.

'Least reviewed' is sorted by the lowest number of times you practiced the 'kana', so it might be good to check it at the end.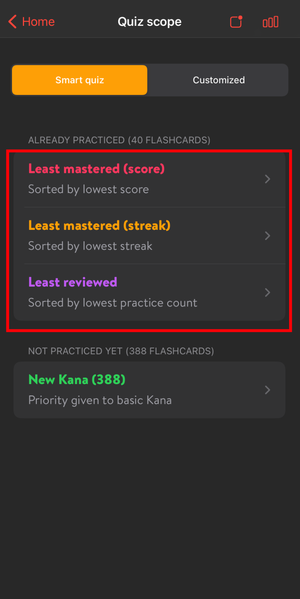 After you take a quiz, the screen will show the areas where you made mistakes and answers to problems you skipped by answering 'I don't know'.
The red frame shows the amount of time it took you to finish the quiz. 'Streak:3' in the blue frame means that you got 'ウ' correct three times in a row.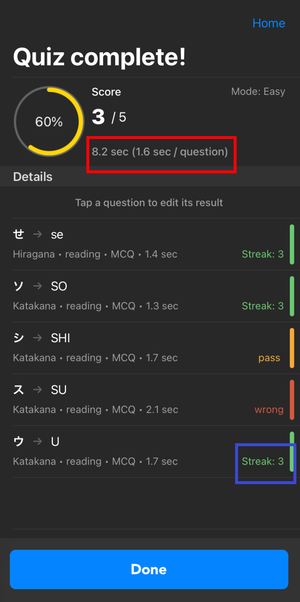 Tap the red frame at the top right of the next image to see your current progress.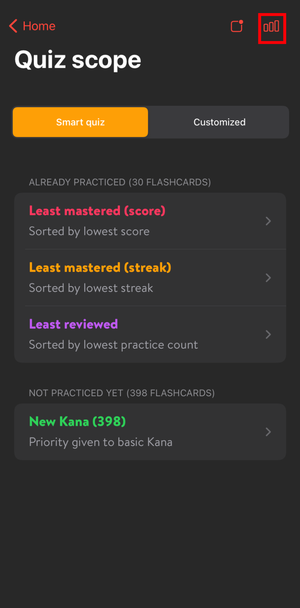 Tap 'Top questions' at the bottom right of the screen to find out what your best score and rate of correct answers are, of the quizzes you've completed.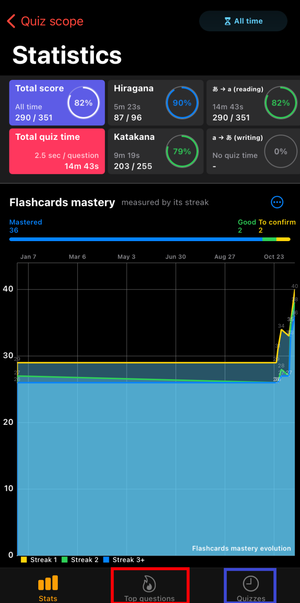 You can immediately see which 'kana' you have problems with.
The kana that you often get wrong will show up in the quizzes over and over again.
It's handy because you can learn the letter until you've absolutely got it right.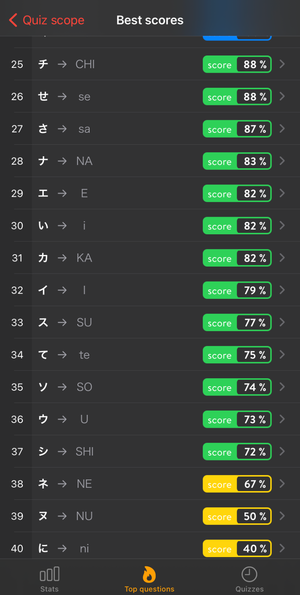 Tap the clock icon in the blue frame on the bottom right of the 'Statistics' screen to show your 'Quiz history', where you can check your past rate of correct answers.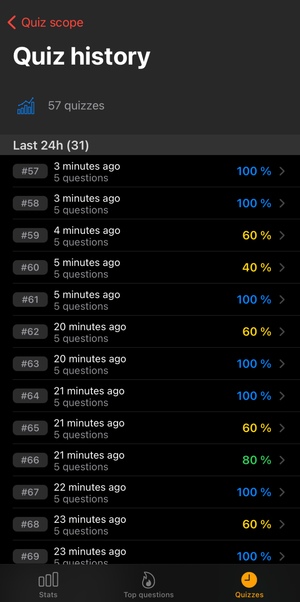 In addition to quizzes you can also listen to the pronunciation of kana and practice kana handwriting.
Tap the icon in the red frame to listen to each 'kana' of the hiragana syllabary in the 'Kana table' on the top page.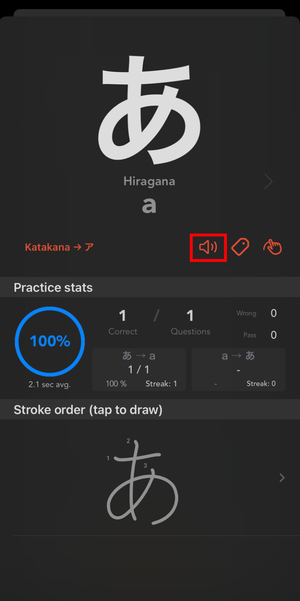 Tap the handwriting icon or 'Stroke Order (tap to draw)' to practice handwriting.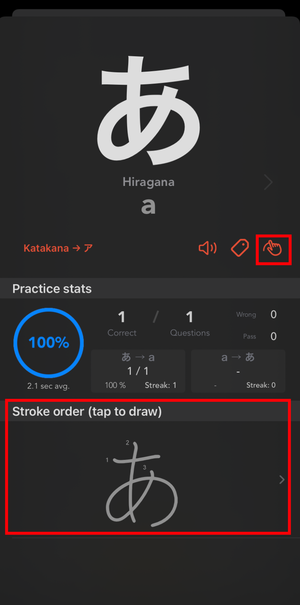 Tap'Grid✓'to choose whether to show grid lines or not. Tap 'Guide✓' to display the stroke order and a subtle model showing the stroke order of 'あ'.
Use it in a way that it's easy for you to learn, to make it more useful.