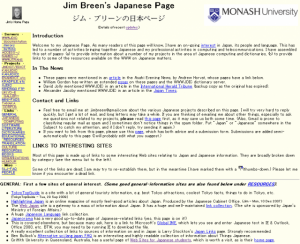 This is a Japanese dictionary and learning website, where lots of information is presented to help you make use of computers in your studies. It's the homepage of Jim Breen, the man behind WWWJDIC (Introduction article).
The collection of links on the site are divided up into 12 categories.
The 12 categories are: GENERAL, JAPANESE COMPUTING, SOFTWARE , LITERATURE, DICTIONARIES, EDUCATIONAL RESOURCES, TRANSLATION, CULTURE, RESOURCES, BOOKS, ORGANIZATIONS and HUMOUR.
You'll also find explanations about Jim Breen's various websites and projects.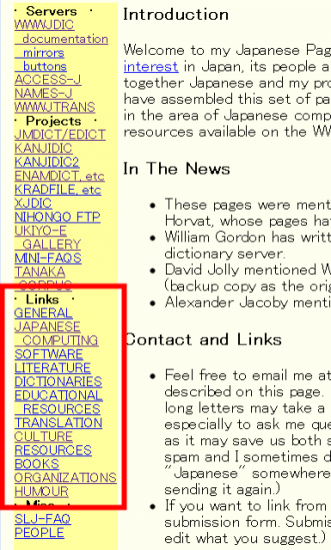 These contents are part of Jim Breen's Home Page.
We also have an article on Jim Breen's WWWJDIC.