What can you do?
With this app you can learn all about Japanese (writing, grammar, learning methods, etc.).
For every section, there are quizzes and audio to check your understanding.
You can learn about culture and society as well.
You can learn easy phrases necessary for daily conversation.
How to...
First of all, there is no portrait mode.
It's split upt into the following categories: "Chapters", "Reviews"(quizzes on each chapter) and "Menu"(setting etc.).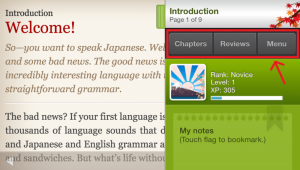 About "Chapters".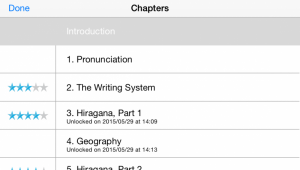 "Introduction" is about ways to study Japanese.
There's plenty of useful information here.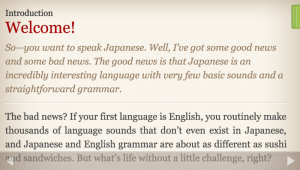 "Chapter 1: Pronunciation" explains about how to pronounce words.
The words in charts and bolded words have audio attached, so you can check the sounds.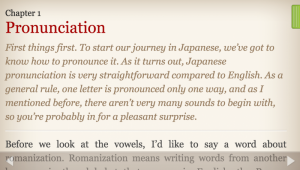 "Chapter 2: The Writing System" explains about kanji and hiragana and katakana.
"Chapter 3: Hiragana Part1" explains about hiragana in more detail, covering topics such as stroke order and points to note when writing. Tapping the words in charts will give you the stroke order, so it's quite useful. There is a matching quiz.
You can adjust the settings for quizzes by going to "Menu" then "Preferences", so we recommend that you check these settings before taking the quizzes.
"Chapter 4: Geography" explains the topography, geography, and population of Japan, letting you gain fundamental knowledge about Japan.
"Chapter 5: Hiragana, Part2" continues from Part1 to explain hiragana.
"Chapter 6: Greetings" offers an explanation of katakana, and introduces phrases and words often used in greetings.
It also includes audio clips, and a matching quiz.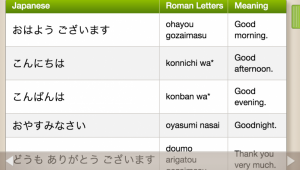 "Chapter 7: The Verb To Be" explains verbs with audio clips and a matching quiz.
"Chapter 8: At Home" explains katakana in continuation from chapter 6 (assimilated and long vowel sounds), introduces vocabulary related to Japanese homes, and explains such things as tatami or shoji.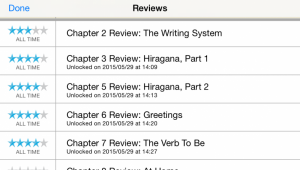 Under"Preferences", in addition to the previously mentioned quiz settings, you can also adjust the size of the main text.