What can you do ?
You can use all sorts of tests to learn.
Choose the level of kanji to test yourself with.
Practice writing with the handwriting recognition function.
How to...
The tests are on the HOME screen.
Before you start a test, select "JLPT Level" or "SCHOOL YEAR" from Test under SETTINGS at the bottom of the screen, to switch the display.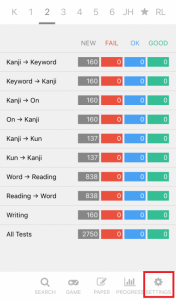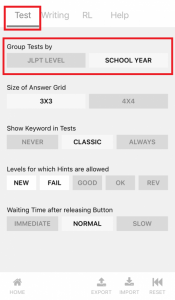 If you are just starting or at a beginners level, try the tests in "SCHOOL YEAR". If you are intermediate or above, use the ones in "JLPT Level".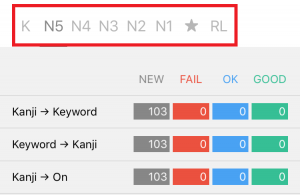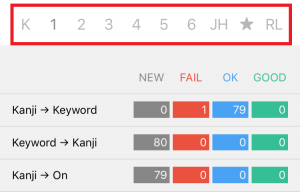 Here, we will choose the "SCHOOL YEAR" setting.
Let's begin by choosing the level on the screen.
A great variety of tests are prepared, such as "Kanji→Keyword", where you look at the kanji and choose the meaning, "Reading→Word", where you look at the hiragana with voice and choose the kanji, and "Writing" that grades your written kanji.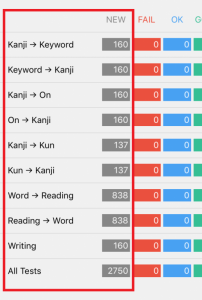 Tap the gray box from the menu you want to study to start the test.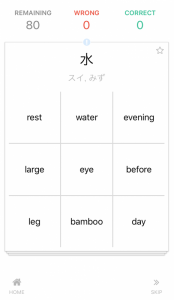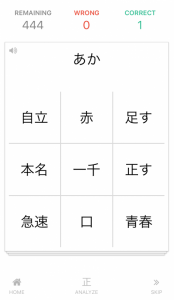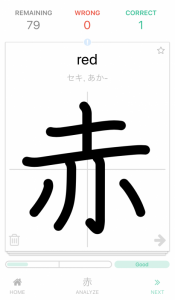 If you make a mistake, tap ANALYZE at the bottom of the screen.
You will see a kanji card that will let you immediately check the meaning, reading (on-yomi and kun-yomi) and vocabulary that uses that character.
You can also practice writing the kanji by going to "PRACTICE" at the bottom of the kanji card screen.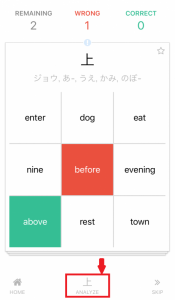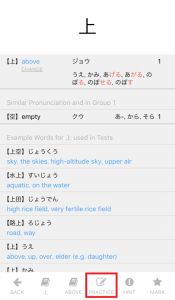 Use your finger to write the kanji in the stroke order by following the arrows.
If your writing is correct, you'll see the sample kanji at the bottom of the screen in green. If it is incorrect, it will be shown in red.
Even if the kanji itself is correct, it will show as incorrect, if you mistake the stroke order.
The test results will be managed on the HOME screen.
There will be a record of which questions you answered correctly or incorrectly. By tapping the FAIL box, you can review only the questions you got wrong and are difficult for you.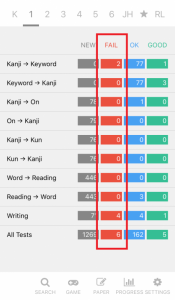 You can also look at the kanji cards on the list by going to SEARCH at the bottom of the screen.
This will be useful to preview for and review tests.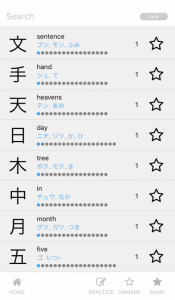 Go to Charts in PROGRESS at the bottom of the HOME screen to see your learning progress by intervals.
For detailed instructions on how to use the app, please download the manual from HELP in SETTINGS.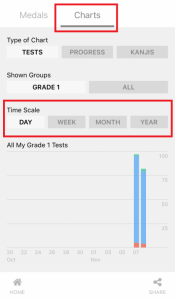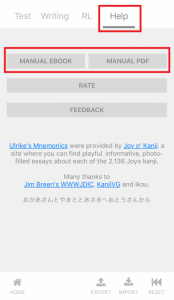 By going at it from all different angles, you'll surely be able to keep practicing difficult kanji and stay motivated.